Just another chicken dinner? I think not! A fresh and vibrant pasta dinner, this Chicken Penne with Squash Recipe is a wonderful way to end the day.
Chicken Penne with Squash
Print recipe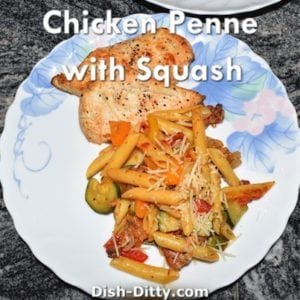 Ingredients
4 cups mixed vegetables (diced: onions, peppers, zucchini, squash)
1 cup cherry tomatoes (quartered)
1 1/2 teaspoon garlic salt
1 tablespoon garlic (minced)
1 teaspoon Italian seasoning
3 chicken breasts (thinly sliced, about 9 total slices)
garlic salt
black pepper
4 Slices bacon
2 tablespoons garlic olive oil
1/2 cup dry vermouth
1/2lb penne pasta (cooked)
1/4 cup Parmesan cheese (+ more for serving)
Directions
Step 1
In a bowl combine mixed veggies, cherry tomatoes, minced garlic, italian seasoning and 1/2 tsp garlic salt. Set aside.
Step 2
In a large pan, cook bacon until brown and crispy. Remove from pan and cool on a paper towel, leaving the grease for cooking the chicken.
Step 3
To the bacon grease, add olive oil and heat on medium heat until olive oil is hot (30 seconds or so). Sprinkle chicken with garlic salt and black pepper. Brown chicken in small batches, being sure to fully cook chicken. Since the chicken is thinly sliced, it will only take about 3 minutes per side. Remove from the stove and place in a warming drawer or warm oven.
Step 4
Once all the chicken is cooked and keeping warm, add the vegetable mixture to the pan and cook until soft. Add the bacon, cut up, with the dry vermouth and cook 1-2 minutes to cook off the alcohol. Add the penne pasta and 1/4 cup Parmesan cheese. Serve with the chicken on the side. Top with fresh ground black pepper and Parmesan cheese.
---
This recipe can be made with or without the pasta. For me, someone who is trying to stay low-carb, pasta is on the no-no list. But for the rest of my family, it's one of the staples. So this recipe worked great for both of us. I was able to cook up the veggies and place some aside without the pasta for me. Then continue on and add the pasta for the boys. Win win!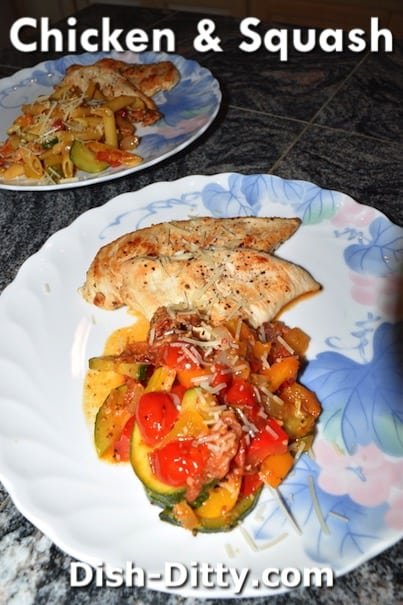 Have a wonderful dinner. Enjoy!