I am addicted to Country Sausage Gravy on biscuits with eggs.  If I see them in a restaurant, I have to order them.  My sis always made her own, and one day I actually had some italian sausage in the morning while I was already cooking up a batch of meatballs, so I decided to try my hand at making this yummy breakfast gravy.  It really was quick and easy.  I was surprised that it just turned out super good.  My sis adds onions to hers, but I liked it without.


Country Sausage Gravy
Print recipe
| | |
| --- | --- |
| Serves | 4 |
| Cook time | 10 minutes |
| By author | Dish Ditty |
Simple and easy for those hectic mornings, this Country Sausage Gravy Recipe is even easier than the package mixes.
Ingredients
.5lb Ground Italian Sausage
3 tablespoons Flour
2.5 cups Milk (1%)
1 teaspoon Black Pepper
Directions
Step 1
In large skillet, brown the italian sausage on medium-high heat. The sausage should be browned, not just cooked.
Step 2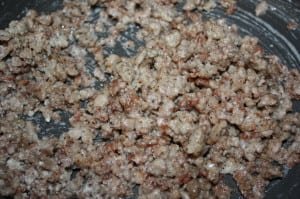 Add the flour to the sausage and cook for about 1-2 minutes. You are trying to make something similar to a roux, where the flour is ready for the milk.
Step 3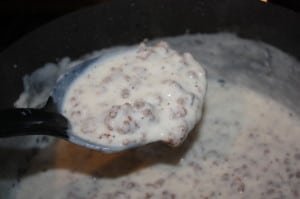 Add the milk and black pepper, bring to a boil and cook for an additional 2-3 minutes. Sauce should be thick and creamy