Kick up your Apple pie and make it a Cranberry Apple Pie! A little sweet, a little tart, a little salty. It is even beautiful. This Cranberry Apple Pie Recipe has it all.
Cranberry Apple Pie
Print recipe
| | |
| --- | --- |
| Serves | 8-12 |
| Prep time | 30 minutes |
| Cook time | 45 minutes |
| Total time | 1 hours, 15 minutes |
| By author | Dish Ditty |
Ingredients
Crust
Cranberry Filling
8oz Fresh Cranberries
1/4 cup Sugar
1/2 cup Water
1 Cinnamon Stick
Apple Mix
3 tablespoons Flour
1/2 cup Sugar
1/2 teaspoon Cinnamon
1/4 teaspoon Salt
3lb Granny Smith Apples
Crumble Topping
3/4 cups Flour
1/4 cup Light brown sugar
1/2 teaspoon Cinnamon
1/8 teaspoon Salt
1/4 cup Butter
Note
Don't want to make the fresh cranberries? You can cheat and add canned cranberry sauce (NOT JELLY!).
Blind baking the pie crust is a method of partially pre-baking the crust.  See the instructions following this recipe or look it up on the wonderful world of the internet.
Directions
Step 1
Preheat oven to 375 degrees.
Step 2
In a small saucepan, combine the ingredients listed under 'Cranberry Filling' and bring to a boil. Simmer for about 5-8 minutes, or until the cranberries start to pop. Remove from heat and let cool.
Step 3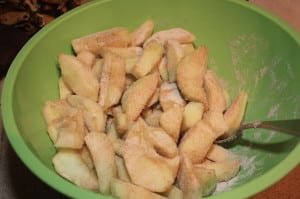 Combine 3 Tbl flour, 1/2 cup sugar, 1/2 tsp cinnamon and 1/4 teaspoon of salt together. Toss with the apples.
Step 4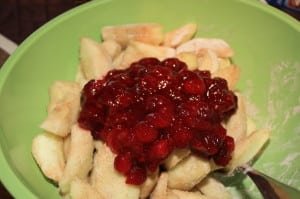 Add the cooked cranberries to apple mixture and mix together.
Step 5
Pour the apple mixture into the baked pie crust.
Step 6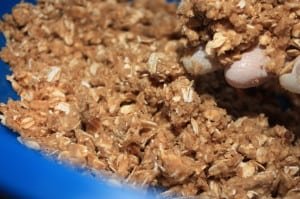 In a separate bowl, combine the oats, sugar, flour, cinnamon, and salt. Add the butter and use your hands to mix it up. I prefer to put on food service gloves since it gets quite sticky. Work it until the butter is well incorporated and the mixture is crumbly. Sprinkle evenly onto the top of the apple mixture. Try to spread it evenly so that there aren't too many open spots.
Step 7
Bake at 375 degrees for 45-50 minutes or until the crumble is golden brown and the center is bubbly. Serve hot or cooled, your choice!
---
I started making these about 20 years ago on one weekend when my husband was away for the weekend with all his friends the weekend before Christmas.  I was alone and started making pies.  I made about 20 pies that night, homemade crusts and all.  I made a handful of these cranberry apple pies and the rest just standard apple pies.
After that weekend of apple pie making, you would think I wouldn't make apple pies ever again! But, instead the cranberry apple pie is one I try to figure out how to make every year.  I don't always get a chance to make it, mostly because I have some picky family members (one of which who freaked out at my crumble topping on the apple pie).
So, I tend to stick with traditional pies. But this year I put my foot down and made this and my husband's family loved it.
---