This is a great copycat recipe based off of Sweet Tomatoes Broccoli Cashew Salad. My son loved this salad so I embarked on recreating it.  The result was a success and we now have another salad to add to our list.
Broccoli Cashew Salad
Print recipe
| | |
| --- | --- |
| Serves | 8-12 |
| Prep time | 15 minutes |
| Cook time | 5 minutes |
| Total time | 20 minutes |
| By author | Dish Ditty |
Ingredients
2lb Fresh Broccoli (Blanched)
1 cup Mayonnaise
2 teaspoons Cider Vinegar
1/4 cup White Sugar
1/2 cup Raisins
1 cup Roasted Cashews
1/4 Red Onion (finely chopped)
1/4 cup Cooked Bacon (chopped)
Directions
Step 1
Blanch the broccoli first. Drain and pat dry.
Step 2
In a large bowl, combine the mayonnaise, cider vinegar, and sugar. Add the onions, raisins, cashews and bacon and mix to combine. Add in the cooked broccoli and toss to coat. Refrigerate for at least 2 hours before serving.
---
How to Blanch your Vegetables
Print recipe
Directions
Step 1
Wash and trim broccoli or just buy a bag for $5 like this one.
Step 2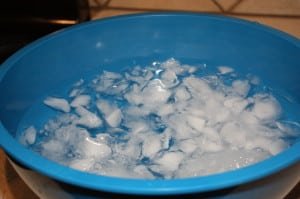 Setup a large bowl with ice water.
Step 3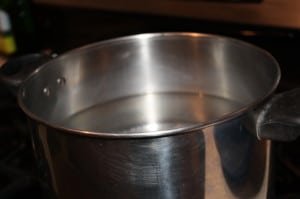 Bring a large pot of water to boil. Add a couple of dashes of salt to the water.
Step 4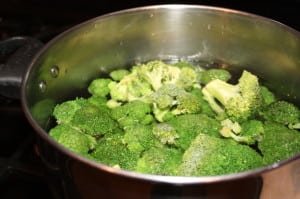 When the water comes to a boil, add the broccoli in small batches to the boiling water. The water will stop boiling, this is ok. It only takes less than 30 seconds to blanch the broccoli. You can see here a picture of when the broccoli just went into the water.
Step 5
This is about 30 seconds later. Notice the bright green color on the broccoli. Do not try to fully cook the broccoli or you will wind up with brown mushy broccoli. Also, don't worry if the water comes back to a boil. Depending on how much broccoli you put in, the water may not come to a boil even though the broccoli is ready. Color is the key. When it's bright green, remove it.
Step 6
Quickly remove the broccoli from the boiling water and immediately place it into the ice water bath. Repeat until all the broccoli is blanched. Add ice to the water bath if necessary. The purpose of the ice bath is to stop the broccoli from cooking and to seal in that bright green color.
Step 7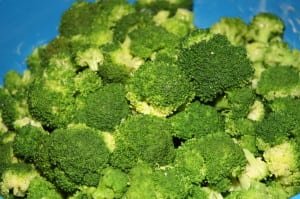 You can remove the broccoli from the ice bath after about 5 minutes. Look how pretty the broccoli looks now.
---
And, this salad isn't just for summertime. I served this at Thanksgiving and it was a hit. A beautiful bright green accent to all the brown in a typical Thanksgiving meal.  To make it a little more festive, change the raisins out for Craisins.
Enjoy!
---