A tasty weeknight dinner. Works great over rice or egg noodles. Inspired by my mom's Special Baked Chicken recipe, but instead this recipe is done in 30 minutes from start to finish.
Creamy Bacon Chicken
Print recipe
| | |
| --- | --- |
| Serves | 6-8 |
| Cook time | 30 minutes |
| By author | Dish Ditty |
Ingredients
4 Slices Bacon
1 cup Flour
1/2 teaspoon Salt
1/2 teaspoon Seasoned Pepper
1 1/2lb Boneless Chicken Tenders
2-6 tablespoons Oil
1/2 Red Onion (diced)
1 cup White Wine
1 can Cream of Mushroom Soup
1 cup Sour Cream
Directions
Step 1
In medium sized bowl, mix together the flour, salt and seasoned pepper.
Step 2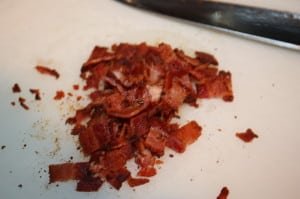 In large deep skillet, cook bacon until crispy. Remove bacon and place on paper towels, cutting into small pieces when cooled. Leave the bacon grease in the pan.
Step 3
Add 2 tablespoons of oil to the pan keeping the pan on medium high heat. Dredge the chicken in the flour mixture and...
Step 4
And place dredged chicken in hot oiled pan, leaving room around the chicken (don't crowd). You will likely need to cook the chicken in two batches.
Step 5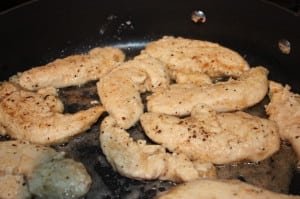 Flip the chicken over once lightly browned. Continue to cook until chicken is browned on both sides. Remove and repeat with remaining chicken, adding additional oil to pan if needed. Remove chicken and set aside.
Step 6
Add onions back to the pan and cook until they are slightly browned and/or translucent.
Step 7
Add 1 cup of wine and cook until wine is reduced in half.
Step 8
Add the chicken back to the pan, flipping the chicken to coat evenly.
Step 9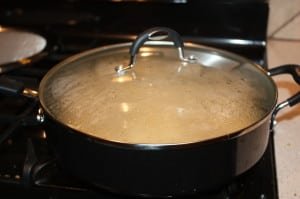 Reduce heat, cover and simmer for 15 minutes.
Step 10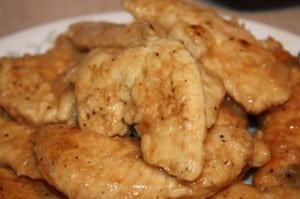 Remove the chicken and place on serving platter.
Step 11
In the pan, add the cream of mushroom soup and cook until bubbly. Add in the sour cream and heat until bubbly. Remove from heat and stir in the chopped bacon.

Step 12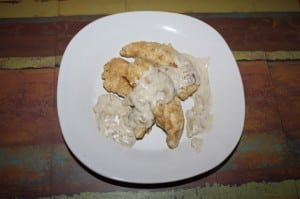 Serve the chicken with the sauce over rice or noodles.