Crispy skin and tender duck are easy with this Easy Roasted Duck Recipe.

Enjoy!

Easy Roasted Duck
Print recipe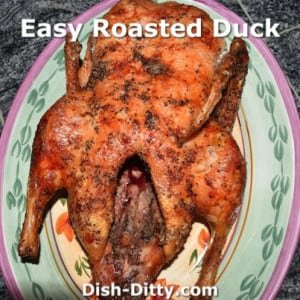 Ingredients
3 tablespoons Olive Oil
1 tablespoon Coarse Black Pepper
2 tablespoons Course Sea Salt
patted dry
Directions
Step 1
Heat oven to 375 degrees using Convection Roast setting, if available.
Step 2
In small bowl, mix together pepper and salt. Rub olive oil and salt/pepper mixture all over the duck, inside and out.
Step 3
Place duck on a wire rack in a roasting pan. Add about 1/2-1" water in the pan (do not let it touch the duck, so depth depends on how close your rack is to the bottom of the pan). Place in the oven and roast for 1-2 hours, depending on the size of your duck. The duck I had was very large and took about 1.5 hours to fully cook. Most ducks are a lot lighter and only take 1 hour.

Check the duck every 30 minutes or so to see if you need to add more water (to prevent the pan drippings from burning. The internal temperature of your duck should be between 160-165 degrees.
Step 4
Remove when the duck reaches 160 degrees. Let it rest for 15 minutes before carving and serving.
---