Another one of my craving helpers, this Peaches & Cream shake is made with fruit and milk with no added sugar. Perfect to curb your cravings and for your New Years Resolution to cut out sugar from your diet.


Peaches & Cream Shake (No Sugar Added)
Print recipe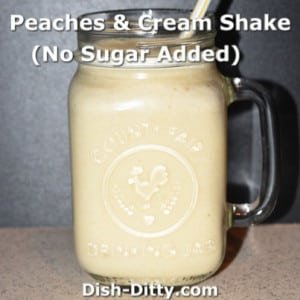 Ingredients
3/4-1 Banana (ripe)
8-10 Frozen Peach Slices
1/2 teaspoon Vanilla Extract
1 cup Milk
Directions
Step 1
Combine and blend in a Ninja Personal blender or a similar blender. Serve and Enjoy!
---
Sugar cravings are very hard to deal with if you don't have a healthy outlet. I have been adding a couple recipes to my arsenal so that I can try to stay sugar free. Fruit is a healthy sweet which, when used in a shake like this one, will make you wonder why you would ever need to add sugar.
Try it and you will love it! Enjoy!