This is for those home cooks who are like me. You forget to pull out meat to thaw for dinner.  Chicken is one of the hardest ones to thaw out quickly, so most of the time if it's not thawed, I don't have time to use it for dinner. Never fear! Freezer to Table Chicken Recipe to the rescue!
Freezer to Table Chicken
Print recipe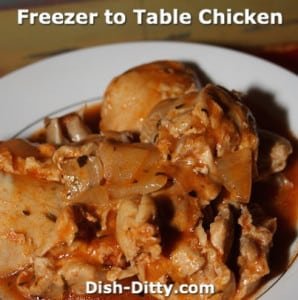 | | |
| --- | --- |
| Serves | 5-6 |
| Prep time | 5 minutes |
| Cook time | 1 hour, 5 minutes |
| Total time | 1 hour, 10 minutes |
| By author | Dish Ditty |
Ingredients
2lb Frozen Boneless Skinless Chicken Thighs
3 cups Water
1 can Tomato Sauce (Contadina brand)
1/2 Yellow Onion (diced)
1 teaspoon Thyme
1 teaspoon Marjoram Leaves
1/2 teaspoon Garlic Salt
1/2 teaspoon Garlic Pepper
1/4 teaspoon Nutmeg
Directions
Step 1
Put everything in a large stock pot. Bring to a boil. Reduce heat to a low-medium temperature. Cover and cook for one hour, stirring once every 10 to 20 minutes. If using bone-in chicken, cooking time may need to be increased. Check the temperature of the chicken to make sure it is 165 degrees throughout. Remove from heat and serve with rice.
Well, this is one of those recipes that is perfect for those nights.  No need to thaw your chicken, just throw it in frozen and in an hour, you'll have a delicious dinner.
You think I'm crazy right? Nope, just desperate some nights to have a home cooked meal.
Enjoy!
---