This is a classic Chinese dish that is a commonly served dish at Chinese Restaurants around the world. Chow Mein directly translated means Stir Fried Noodles. This is an easy Chinese dish you can make at home that can be used as a one pot meal.


Chicken Chow Mein
Print recipe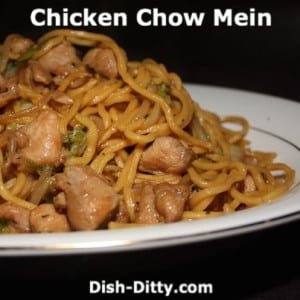 | | |
| --- | --- |
| Serves | 6 |
| Prep time | 10 minutes |
| Cook time | 15 minutes |
| Total time | 25 minutes |
| By author | Dish Ditty |
Ingredients
1lb Chicken Thigh Meat (diced)
1/2 cup Soy Sauce (for chicken)
1/4 cup Chinese Wine (or Sherry)
2 teaspoons White Granulated Sugar
2 dashes White Pepper
1/8 teaspoon Ground Ginger
1 teaspoon Dried Cilantro
1lb Chinese Egg Noodles (Cooked, drained, rinsed with cold water to stop cooking)
8oz Mung Bean Sprouts (Cleaned)
2-5 cups Vegetables (Napa Cabbage, Celery, Carrots, etc.)
4 Green Onions (chopped)
6 tablespoons Vegetable Oil (divided into 3 equal parts of 2 Tbl each)
1 tablespoon Soy Sauce (for Vegetables)
1/4 cup Soy Sauce (to finish)
Note
I prefer my sprouts cooked. If you prefer a crunchier bean sprout, add the sprouts when you add the last 1/4 cup of soy sauce.
Vegetables that work well in this dish: celery, carrots, napa cabbage, bok choy, bean sprouts, yellow onions, and green onions.
Directions
Step 1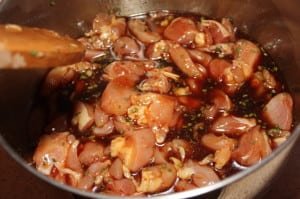 In a bowl, mix together 1/2 cup soy sauce, Chinese wine, white sugar, white pepper, ground ginger, and dried cilantro. Stir in the uncooked chicken and mix well. Cover and set aside.
Step 2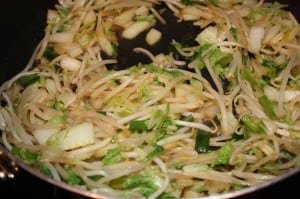 In a large wok or pan, heat on high 2 tablespoons of vegetables oil. Add the vegetables, green onions and 1 Tbl soy sauce. Cook until vegetables are soft. Remove and set aside.
Step 3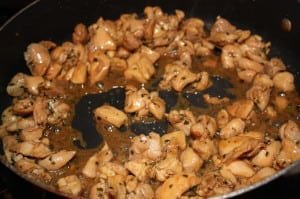 Drain the chicken and in the same pan you used to cook the vegetables (no need to clean it), add 2 Tbl of oil and add the chicken. Cook on high until browned and fully cooked.
Step 4
Now that the chicken is cooked, add the last 2 Tbl of vegetable oil (optional), the cooked noodles, and the cooked vegetables. Continue to cook on high, stirring constantly to combine.
Step 5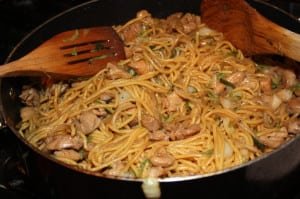 About 2 minutes into cooking the noodles, add 1/2 cup of soy sauce. This will give the finishing flavor you need. Cook for another 2-3 minutes or until the noodles, vegetables, chicken and sauce are cooked well. Remove from heat and serve hot.
---
Now, let me start by saying this is not 'lo mein'. My husband is Chinese (Mandarin), and the direct translation for 'Mein' is 'Noodle' and 'Chow' is 'Stir Fried'.
I'm not sure why, but there is a group of people who seem to think that chow mein is only vegetables and no noodles. I'm sorry to burst your bubble, but Mein is 'Noodles'. Without the noodles, there is no Mein in Chow Mein. 😉 If you don't believe me, go to google translate and see for yourself. Type in 'Chow Mein' for english, and you'll see the definition is:

Still don't believe me? Go to Wikipedia's Chow Mein page:
Chow mein (/ˈtʃaʊ ˈmeɪn/) are stir-fried noodles, the name being an English language corruption of the Taishanese chāu-mèing. The dish is popular throughout the Chinese diaspora where it will appear on the menu of Chinese restaurants. It is particularly popular in the United States and Britain.
Now that we have that cleared up, what's the difference between a lo mein and a chow mein? Fried vs. not fried. If the method of cooking the noodles is a 'stir fry', then the dish is considered to be a chow mein. If it uses steam or liquid to cook (as you can see in my Family Style Lo Mein Recipe), or if you smother a boiled noodle with vegetabales and/or meat, then it is 'Lo Mein'.
There are a lot of other styles of Chinese Noodles including 'Hong Kong Style Chow Mein', but I think Chicken Chow Mein is probably one that you will find in 95% of the Chinese Restaurants in the US.
As for the noodles, what kind of noodles are best? Well, you really should try to get a fresh Chinese egg noodle. Cook it in boiling water per the package directions, drain and rinse with cold water. This is the one I used:
But I realize that's not always possible. So, I found that the cheaper spaghetti noodles work best. The more yellow the noodle, the better.
And as for bean sprouts, any type will do. But, the Mung Bean Sprout is most common. Here's what I used:
And finally, the Chinese Wine. Don't worry if you don't have any on hand. You can substitute with a Cream Sherry, Sweet Vermouth, or a white wine. That flavor isn't a huge part of the dish, so if you are 'alcohol free', you can even substitute it for 'rice wine vinegar'. You just need a little something extra to let the flavors pop.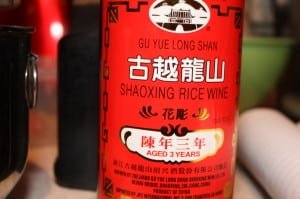 I think you are probably ready for the recipe now. So, here it is. Enjoy!
---