Why buy granola when you can make your own at home with every day items in your pantry? This Homemade Granola Recipe is quick and easy and tastes 10x better than any store bought granola.
Homemade Granola
Print recipe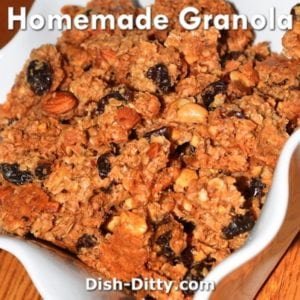 Ingredients
1/2 cup honey
1/4 cup oil (coconut, olive, etc.)
2 heaped tablespoons peanut butter
1 teaspoon vanilla extract
1/2 teaspoon cinnamon
1/2 cup peanuts (roughly chopped)
1/2 cup almonds (roughly chopped)
3/4 cups dried cherries (cut up)
2 cups old-fashioned oats
Directions
Step 1
Preheat oven to 300 degrees.
Step 2
Combine the oil, honey, and peanut butter in a microwave safe bowl. Microwave for 30 seconds, stir and then microwave again for 30 more seconds. Stir in the cinnamon and vanilla. Then add the cherries, almonds, peanuts and oats. Mix together until well combined and sticky.
Step 3
Lay the granola mixture out onto a cookie sheet lined with parchment paper (or non-stick tin foil or tin foil sprayed with pam). Allow it to touch so you can create chunks of granola, not just flakes.
Step 4
Bake at 300 degrees for 25-35 minutes (or until lightly browned). Remove from oven and let cool completely. The granola will still be soft when it is warm. Serve as a snack or on top of yogurt.
---
It's so easy, I even make it at work sometimes… in the toaster oven: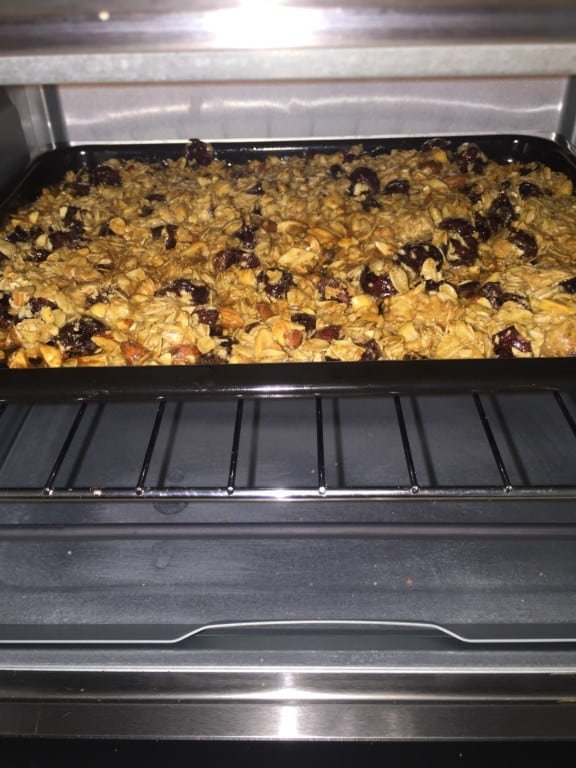 So it's no surprise that I make this at home for my breakfast, as a snack, or (my favorite) on top of yogurt. (oh and make your own yogurt with 1 cup yogurt, 1-2 Tbl honey, and 1/2-1 cup of fresh fruit).
Enjoy!