Looking for next year's Christmas Gifts already? Last year I started my vanilla extract in January, and I was glad I did. I had it all setup and ready to go before the Christmas Crazies hit me.


Homemade Vanilla Extract
Print recipe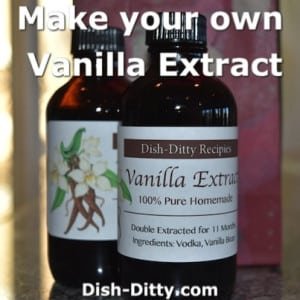 Ingredients
1.75l Vodka (in Dark bottle)
1/2lb Grade B Matagascar Vanilla Beans
Directions
Step 1
Remove about 1 cup of vodka from the bottle (enjoy!). Cut the vanilla beans in half and add to vodka bottle. Place in a cool, dry place that is free of sunlight. For the next 6-12 months, shake the bottle a couple of times every week. For an even stronger vanilla, remove the beans at six months and add a fresh set of vanilla beans. Pour the vodka out of the bottle and strain through a fine sieve and then through cheesecloth to remove the excess particles of vanilla. Bottle. I used 4 ounce bottles found on Amazon and it made 12 bottles. (Some evaporated through our constant testing to see how it was developing)
Step 2
What to do with the vanilla beans now? Make Vanilla Sugar. To do that, I removed the excess liquid from the vanilla beans with paper towels, let them dry out for a bit on the counter, then placed them in a container of sugar to create vanilla sugar. I let them set with the sugar for about 3-4 months.

YUMMY! The vanilla sugar is great for pastries, toppings on waffles, in milk for vanilla milk or even just in your coffee or tea.
---
Homemade food gifts are a fun and creative way to show your family and friends that you care enough about them to spend the time to make them something they can use. And who doesn't use vanilla?
There are a lot of posts on how to make your own vanilla. I'm going to give you a couple hints.
First things first: It takes more than 1 month to make a real vanilla extract. Any post that says one month, throw it out the window. We tested the vanilla throughout the year, and it wasn't ready as a light vanilla until about the 5-6 month mark. Here's a picture of the 11 month extraction on the left and the 6 month extraction on the right. You can see that the one on the left is super dark and the one on the right is a nice dark caramel color.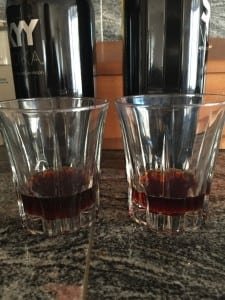 Second hint: Use Vodka! A lot of the recipes call for Bourbon. I'm sure the vanilla turns out nice, but one thing about vodka is that it has no taste. The second reason? It has no color. So, you can tell how deep your extraction is by checking it's color. If you start out with a caramel color, you won't be able to tell how dark the vanilla extract has become.
Third hint: Extract in a DARK bottle. Why? Sunlight damages the vanilla. So, keep it cool, keep it dry, and keep it out of the sunlight. I used the dark blue Skyy Vodka bottle to make my extract.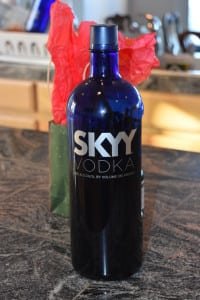 Fourth hint: Do not use Grade A vanilla beans. I tried them at first and they do not work as well. The Grade B beans are a little drier and actually produce a stronger extract. You can choose to use a different type of bean like Mexican Vanilla Beans or Tahitian Vanilla Beans for a different flavored extract, but the most common is the Madagascar Grade B Vanilla Beans.
Last hint: Use brown bottles when extract is complete. I found that a dozen bottles was perfect for 1.75 liter bottle of vanilla.
So, start it early and have fun next Christmas handing them out to your family and friends! Enjoy!
---