Apples and pears are covered with a buttery oat topping and baked into a sweet crumble which is perfect when served warm with ice cream.


Apple Pear Crisp
Print recipe
Ingredients
1/2 cup Cold Butter (cut into small cubes)
Filling
5-6 Apples (cored and sliced thick)
2-3 Pears (cored and sliced thick)
2 tablespoons Flour
1/4 cup Brown Sugar
1 teaspoon Cinnamon
1 dash Nutmeg
Topping
1/2 cup Brown Sugar
2 tablespoons Flour
1 cup Oats
1 teaspoon Cinnamon
1 dash Nutmeg
Directions
Step 1
Mix all the dry ingredients for the filling together and toss with the pears and apples, covering evenly. Place the mixture in a casserole dish.
Step 2
To make the crumble topping, in a large bowl, combine the oats, sugar, flour, cinnamon and nutmeg. Add the butter and use your hands to mush and crumble it together. (you can use a pastry blender but I find it breaks up the oats too much)

I like to put on food service gloves as it does get a little messy. You want to mix it for several minutes to make sure that the flour and butter is well incorporated into the oats.
Step 3
Sprinkle the crumble topping onto the apple/pear mixture, being sure to cover the pie evenly and to the edges.
Step 4
Bake at 350 for 1 hour, or until the apples are soft and there is a sauce created. Serve hot with ice cream (preferably homemade cinnamon ice cream 😉
---
This is one of those recipes that I never measure. Never, I just throw in whatever apples and pears I have in my refrigerator, toss it with the flour/etc. and then mix up the crumble by sight. So, I had to actually measure this time. But it really is a never fail recipe.
When baking this crisp, you want to wait for the apples to get soft so they start to release the liquid and create that delicious sauce you see in the cover picture. Below is a picture showing you the apples when they are not yet ready. You can see there isn't a caramel sauce yet created:

And when it's done: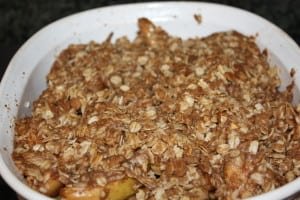 Enjoy!
---