Guest Ditty Jammin' Judy returns with her Hint of Orange Cranberry Sauce. This is a recent addition to our family Thanksgiving Dinner. No more canned cranberry sauce for us.
This is not quite a cranberry sauce and not quite a cranberry relish, it's a little in between.  You will find that the kids will go back for seconds, thirds…  It's definitely the best cranberry sauce I've ever had.
This week, in late April, we are having a Turkey Dinner and we are having it again. So amazing, so delicious.  Thanks Judy for giving us another amazing recipe.



Hint of Orange Cranberry Sauce
Print recipe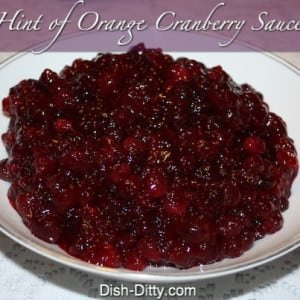 | | |
| --- | --- |
| Serves | 8-10 |
| Cook time | 20 minutes |
| By author | Judy Sink |
Ingredients
1/2 cup Orange Juice
1/2 cup Water
1 cup Sugar
1/2 teaspoon Orange Zest (about 1/2-1 orange)
12oz Fresh Cranberries
Note
If you don't have orange zest, you can substitute with 1 tablespoon of orange concentrate or 2-3 tablespoons of orange juice.
Directions
Step 1
In a saucepan, mix juice, water and sugar. Bring to a boil. Stir in cranberries & orange zest and bring back to a boil. Reduce heat and simmer uncovered 10 minutes (or until berries have popped). Remove from heat and cool. Sauce will thicken as it cools.