Who doesn't love Sizzler's Malibu Chicken? With not many Sizzler restaurants around, you may have to make it at home to get your fix. This Malibu Chicken Copy Cat Recipe is super easy and there is no reason to hunt down one of the last Sizzler restaurants.

---
Malibu Chicken (Copy Cat)
Print recipe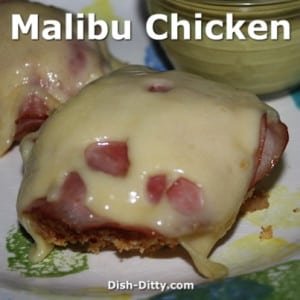 Ingredients
Malibu Chicken
3 Eggs
1 tablespoon Minced Garlic
1 cup Panko Bread Crumbs
1 cup Parmesan Cheese (grated)
1 tablespoon Garlic Powder
1/4 teaspoon Black Pepper
1/4 teaspoon Garlic Salt
8 Boneless Skinless Chicken Breasts (cut in half to make 8 pieces)
16 Thin Ham Slices
8 Swiss Cheese Slices
Pam Cooking Spray
Dipping Sauce
3 tablespoons Mayonnaise
1 tablespoon Yellow Mustard
1 teaspoon Honey
Directions
Step 1
In a medium bowl, beat eggs and add minced garlic. Add the 8 pieces of chicken and mix to coat well. Cover and refrigerate for at least 4 hours.
Step 2
In a medium bowl, combine the panko bread crumbs, grated parmesan cheese, garlic powder, garlic salt and black pepper.
Step 3
Spray a 9x13 pan with Pam. Lightly sprinkle some of the breadcrumb mixture on the bottom of the pan (about 1-2 tablespoons).
Step 4
Dip the marinated chicken into the breadcrumb mixture, pressing as much of the mixture onto the chicken as possible. Lay out onto the 9x13 pan. Do this for all the chicken. Sprinkle a little bit more breadcrumb mixture onto the chicken, if there is any remaining.
Step 5
Bake at 350 degrees for about 45 minutes, or until the chicken is fully cooked and it reaches 165 degrees using a meat thermometer. Not all chicken breasts are the same size and not all ovens are the same, remember to be safe and make sure your chicken is thoroughly cooked. If at 45 minutes, it's not ready, check again in 10 minutes or so.
Step 6
Remove the pan from the oven and place two thin slices of ham and one slice of swiss cheese on each piece of chicken. Return to the oven and bake for an additional 2-5 minutes, or until the cheese is melted.
Dipping Sauce
Step 7
Combine the mayonnaise, mustard and honey together in a small bowl to serve with the chicken.
I've seen this recipe a couple of times on Pinterest and Facebook from
Chef in Training
. She has some amazing recipes, so I thought I'd try it out. Her recipe looked great, but there were a couple of things that I had to change.
First, unless I have a particular use for egg whites, I don't like to use all yolks. I'll wind up eventually throwing out the whites which I don't like to do. So my first adjustment was to use whole eggs instead of just yolks.
Second, I adjusted the mustard sauce. The sauce in her picture wasn't very yellow, and based on the recipe provided, it wouldn't be. So I adjusted it to what I have been making for years which is a much more simplified sauce that has the color and flavor I remember.
This recipe is a winner either as Chef in Training's original or my adjusted recipe. Either way, Malibu Chicken rocks! Enjoy!