A delicious soft and fluffy yeast roll that is not too difficult to make but well worth the time it takes to let them rise.


Yeast Rolls
Print recipe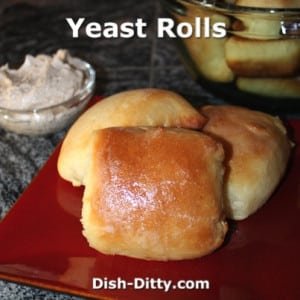 Ingredients
2 cups Milk (Scalded and cooled)
4 teaspoons Active Dry Yeast
1/2 cup Warm Water (NOT HOT)
1 tablespoon Sugar
3 tablespoons Butter (melted and cooled slightly)
1/2 cup Sugar
2 Eggs
2 teaspoons Salt
7-8 cups Flour
1/4 cube Butter (melted for brushing onto cooked rolls)
Directions
Step 1
Start by scalding your milk and setting it aside to let cool. You can scald in on the stove or in the microwave. Make sure the milk has cooled before moving onto the remaining steps. The butter can be melted just before using it, as it will need only 5 minutes or so to cool
Step 2
In a small bowl, combine the yeast, sugar and warm water together. Wait a few minutes to make sure the yeast is active and starts to foam. At this time, melt your butter and let cool until the next step.
Step 3
In a kitchen aid mixer, combine the yeast mixture with the melted butter (not hot), cooled scalded milk, 1/2 cup sugar, eggs and 1-2 cups of flour. Combine well. Let stand for about 10 minutes to activate the yeast. It will start to get light in color and foamy.
Step 4
Add enough flour to form a soft dough, about 5 cups. You may need more/less depending on your kitchen conditions. Using a dough hook, mix until a dough ball forms. Kneed with the dough hook for about 5 minutes.
Step 5
Grease a large metal bowl. Kneed dough by hand until smooth and satin. Place dough into greased bowl, turn over to grease the top. Cover and let rise in a warm place (not hot) until double in bulk. Punch down, let rise again for about 30 minutes.
Step 6
Punch down and place dough onto a floured board. Divide into shaping and let rest for 10 minutes.
Step 7
Shape dough into desired forms. Place on greased baking sheets and let the dough rise until doubled.
Step 8
Bake at 450 degrees for 10-15 minutes, or until golden brown. Baste immediately with butter.
Step 9
Serve with Cinnamon Honey Butter
---
Honey Cinnamon Butter
Print recipe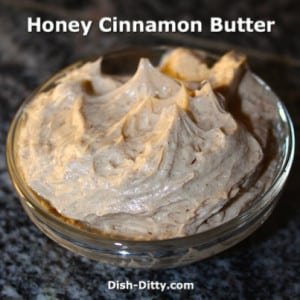 Ingredients
1/2 cup Sweet Cream Butter (softened)
1 tablespoon Powdered Sugar
1 tablespoon Honey
1/2 teaspoon Cinnamon
Directions
Step 1
Mix together all ingredients and beat on high using a whisk attachment for about 2-3 minutes, or until light and fluffy. Serve with hot rolls or bread.
---
I love hot rolls, like the ones served at Texas Roadhouse, so I went on the search for a copycat recipe. I have found many so-called copycat recipes for those rolls, but none really match. These are my take on the Texas Roadhouse rolls, but they still aren't quite the same. Even though they aren't quite the same, they were delicious and yummy none the less.
The recipes for the copycat Texas Roadhouse honey cinnamon butter that I have found are way too sweet. So, you'll notice that this butter is still sweet, but not so much that it is overpowering.
Anyways, here's a great recipe, you'll love it, but sorry it still isn't the best copycat for Texas Roadhouse.