What is better than coconut and chocolate? Add the graham crackers! This Mounds Bars Recipe is just what you think they will be. YUM!


Mounds Bars
Print recipe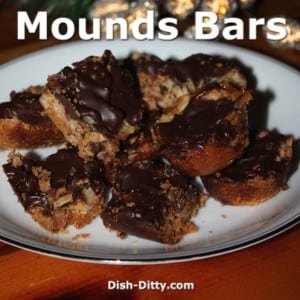 Ingredients
2 cups Graham Cracker Crumbs
1/4 cup Sugar
1/2 cup Butter (softened)
2 cups Shredded Coconut
1 can Sweetened Condensed Milk
1 cup Chocolate Chips
Directions
Step 1
Preheat oven to 350 degrees.
Step 2
Mix together the first 3 ingredients. Pour 2 cups coconut on top. Then pour 1 can Eagle brand sweetened condensed milk over the coconut.
Step 3
Bake 20 to 25 minutes at 350 degrees. Spread chocolate chips on top while warm. Cool and slice into bars.
---
I was looking for a new cookie recipe this year and went through our family cookbook. I saw this recipe which had my mom and her friend Sharon as the author. I don't remember it, but boy it sounded delicious. I had it on my 'want to try' list.
But, my sister SuZ beat me to it, and she wound up making them for Christmas. And boy were they yummy! She cooked them a little longer since she wanted a nuttier toasted coconut taste. I'm sure the original baking time will taste and look more like the classic Mounds, but boy I loved that toasted coconut flavor.
I don't know what more I can say except thank you to my Mom and Sharon for a new favorite.