There is more than one way to make eggs in the morning, and no better way than with your leftovers. Pulled Pork is one of my favorite leftovers with eggs.

Enjoy!
Pulled Pork & Eggs
Print recipe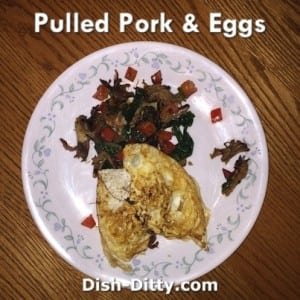 Ingredients
2 teaspoons Garlic Olive Oil
1/4 cup Red Pepper (diced)
1 Green Onions (chopped)
1 handful Spinach
1/4 cup Pulled Pork
2 teaspoons BBQ Sauce
Directions
Step 1
Cook the veggies in oil first until peppers soft and spinach starts to melt. Add the pulled pork, mix and move to the side. Put the sauce on the top.
Step 2
On the other side of the pan, add some pam or butter, crack eggs and sprinkle with salt/pepper. Cook the eggs and pork separately in the same pan, mixing the bbq sauce into the pork. Serve together.
---