This Quick Homemade Pizza Recipe includes a pizza sauce and a pizza dough recipe, both which take just minutes to prepare and can get your pizza in the oven in less than 20 minutes. With the ability to use gluten-free or low-carb flours, and options for vegans, this is a great recipe for all diets.
Quick Pizza Dough
Print recipe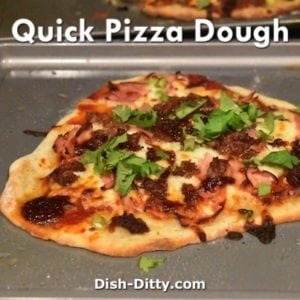 Ingredients
1 cup Greek Yogurt
1/2 cup milk (any kind - unsweetened)
4 tablespoons olive oil
1 tablespoon Italian seasonings
1 teaspoon salt
2 cups flour (any: regular, gluten free, low carb, etc.)
Directions
Step 1
Preheat oven to 425 degrees.
Step 2
Combine yogurt, milk, olive oil, Italian seasoning, and salt. Mix until combined. Add the flour and stir in until all flour is incorporated (only a minute or so). Set aside and let rest for about 5-10 minutes while you chop up your veggies and toppings.
Step 3
Put some flour on a wood board and flatten with your hands, using the flour if needed to keep it from sticking. Place on an oiled cookie sheet. Top as desired with sauce, cheese, toppings. Bake at 425 degrees for 12-20 minutes. Time depends on how thick you make the dough and the amount of toppings. The center should be hot and bubbly. Brush the edges with olive oil if dough is exposed without toppings.
---
Easy Homemade Pizza Sauce
Print recipe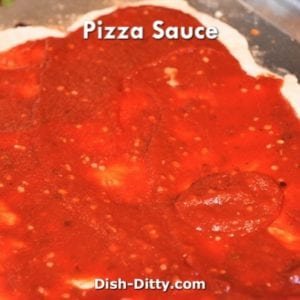 Ingredients
1 can tomato sauce (15 ounces)
1 can tomato paste (6 ounces)
1/4 cup water
1 teaspoon Italian seasoning
1-2 teaspoon crushed red pepper (to taste)
2 teaspoons minced garlic
1/2 teaspoon granulated sugar
Directions
Step 1
Combine in a small sauce pot and bring to a boil. Reduce heat and simmer for 20 minutes while you prepare the pizza dough.

---
Making pizza at home can seem like a daunting task, especially if you want to make your own dough. And forget it if you want to make a low carb or gluten free dough. But, not any more! This dough was super easy to prepare. I made both the white flour version and the low carb version.
The low carb version was definitely not as good as the full white flour version. But, it was a great way for me to participate in pizza night and to get that pizza craving taken care of. I used Bob's Red Mill Low Carb Baking Mix as the flour. You can also choose to use Bob's Red Mill Gluten Free Flour mixture.
If you are looking for a vegan or dairy-free option, you can substitute the milk and yogurt for a vegan plain yogurt. Soy based yogurts will work well. But, because the soy yogurts are a little more runny, omit the milk. Same thing if you use a regular non-Greek yogurt: omit the milk. Essentially, the greek yogurt is super high in protein (which I love) but because it's a lot thicker than other yogurts, it needs to be thinned out just a bit.
Anyways I've rambled enough. The dietary options are plenty with this recipe. So enjoy!
Oh, and forgive me for my amoeba shaped pizzas. Because the dough is so soft, you don't want to work it too much so I just tried to get it to a quick even thickness.
Enjoy!