Looking for a gluten free Crab Cake recipe? Have I got the best one for you. These were not just good, these were… grrrrrreat!"
Naked Crab Cakes
Print recipe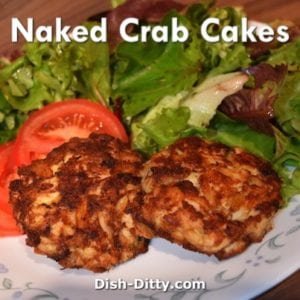 Ingredients
3 tablespoons mayonnaise
1 egg (beaten)
1 teaspoon Old Bay Seasoning
1 1/2 teaspoon dry mustard
1/4 teaspoon cayenne pepper
2 dashes Worchestershire sauce
1 tablespoon cilantro paste (or fresh cilantro)
1 cup cornflakes (crushed)
1lb lump blue crab meat
Directions
Step 1
Using a whisk, combine dry mustard, mayonnaise, parsley, cayenne pepper, and egg in a bowl. Add the Old Bay seasoning if the crabmeat is not home steamed or is canned. Add the corn flake crumbs and combine. Gently fold in the crabmeat and form into patties. Place on wax paper and refrigerate for 1/2 hour (or forget this part like I do and some of the crab cakes will fall apart).
Step 2
In a skillet, place about 1/4 inch of vegetable oil. Heat oil on medium to medium high until a drop of crab will make it sizzle but not burn. Fry crab cakes until golden brown, flip and cook until both sides are golden brown. Don't flip too many times as the crab cakes are a little delicate until they are fully cooked.
---
My Dad is from Baltimore and I was born in the Baltimore area. So, crab cakes are special to us. We are a bit snobbish on how the crab cakes are prepared. There are a few rules that have to be followed for a proper Baltimore crab cake:
Use Blue Crab! Dungeness crab is good, but nothing beats blue crab in crab cakes
Use Lump crab, if you can afford it…
Always add Old Bay, but too much can make it too salty so don't over do it
Never ever mash up or shred the crab, keep it lumpy for the best flavor
Canned crab is fine, get the refrigerated/pasteurized kind. We prefer Phillips or Chicken of the Sea (yes, they make wonderful canned crab)
For a classic Crab Cake recipe, go check out Grandma's Crab Cakes Recipe. If you want something that is a little less calories (not a lot, just a little) and is gluten free, then this is the crab cake recipe for you.
Enjoy!