If you are a pickle fan, this Refrigerator Dill Recipe is the easiest and best dill pickle recipe you will find.

Enjoy!
Refrigerator Dill Pickles
Print recipe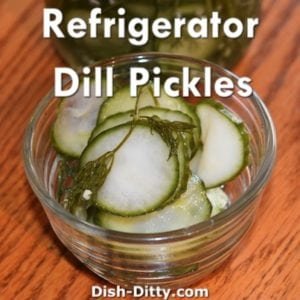 Ingredients
1 cup water
1/2 tablespoon kosher salt
1/2 teaspoon sugar
1 cup ice
1 cup white vinegar
1/2 bunch fresh dill
1 tablespoon garlic (minced)
2 large English cucumbers (sliced thin)
kosher salt
Directions
Step 1
In layers, put cucumbers sprinkled in salt in a colander and place colander over a bowl. Let the cucumbers rest in the salt for 1-2 hours to release the excess water.
Step 2
While the cucumbers are resting in the salt, make the brine. Start by putting the water, 1/2 tbl Kosher salt and the sugar in a small pan and bring to a boil. Remove from heat and add the ice. When the ice has melted, add the vinegar, dill and garlic. Set aside.
Step 3
After 1-2 hours of the cucumbers salting, rinse the cucumbers well and then soak the cucumbers in water for 5 minutes to remove the excess salt. Drain and pat the cucumbers dry with a towel. Mix the cucumbers with the brine and place in glass jar with a lid. Refrigerate for one week before opening. Pickles will be good for 4-6 weeks.
---