Here's another wonderful recipe from my Mom's regular rotation, but I have no idea of its origin. Either way, this was and still is one of my favorite comfort dinners and is great when I need something warm but not heavy.
Smothered Chicken
Print recipe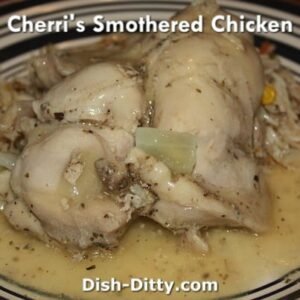 Ingredients
3-4lb chicken pieces (best if a whole cut up chicken, bone in is best)
3 tablespoons butter
1 1/2 cup onions (diced or sliced)
water (to cover)
1/4 cup cornstarch
1/2 cup cold water
1/2 tablespoon salt (or more to taste)
1/2 tablespoon pepper (or more to taste)
1 tablespoon marjoram (dried leaves, not the butter substitute)
Directions
Step 1
In large stock/soup pot, heat butter and place onions and chicken into pot. On high, brown the chicken and onions for a few minutes. (This step can be skipped, my mom never browned it, just dumped)
Step 2
Add the marjoram, salt, pepper, and just enough water to cover. It should not look like soup. You are just getting enough water in the pot for the chicken pieces to be covered.
Step 3
Bring mixture to a boil, cover and reduce heat to a simmer. Cook for about 30-45 minutes until chicken pieces are fully cooked and tender.
Step 4
Remove the chicken pieces and place on a platter (or not, I usually just leave it in there). In small bowl, combine cornstarch and water and use to thicken the liquid into a smooth gravy. Season with salt/pepper to taste and serve the gravy with the chicken over either rice or mashed potatoes.
---
Such an easy dinner and it can be made for 2 people or 20. It's also a great recipe for picky kids or just for when you need a simple yet hearty meal on your busy weeknight.
This recipe has just a couple of ingredients that I almost always have on hand. My mom loved this recipe since it needs very little preparation and is great for a family of 8. You will be surprised at how a few ingredients can make such a wonderful dinner.