A simple recipe to Stabilize your Whipped Cream for cakes and pies. This Stabilized Chocolate Whipped Cream Recipe is so easy, you will love it.


Stabilized Chocolate Whipped Cream
Print recipe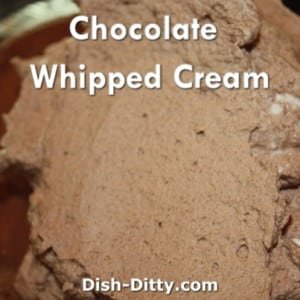 Ingredients
2 cups Heavy Whipping Cream (very cold)
1/4 cup Superfine Bakers Sugar
1/3 cup Unsweetened Cocoa Powder
2 tablespoons Vanilla
2 teaspoons Unflavored Gelatin Powder ((Knox) 1 packet)
2 tablespoons Luke Warm Water
Special Equipment Needed
Directions
Step 1
The first thing to do is put your whisk and your bowl into the FREEZER! Freeze it for at least 30 minutes.
Step 2
Pour the cold heavy whipping cream, cocoa and vanilla into the cold bowl. Start to whip on medium power with the cold whisk and slowly pour in the sugar. Increase the speed to high and whip until soft peaks form. Turn off for now.
Step 3
In small bowl, mix together the gelatin and water. The gelatin should be a little runny, not jelly and not grainy. Quickly move to the next step.
Step 4
Turn back on the mixer at high speed and slowly pour the gelatin mixture into the whipped cream and continue to beat for another minute or two. Do not over beat the whipping cream or it will start to turn to butter.
Step 5
That is it. It is as easy as pie!

Have you ever made whipped cream, put it on your pie or cake and had it just melt off? Want to decorate with the whipped cream but it just won't hold its shape? Just making the whipped cream without stabilizing it, the whipped cream will slowly loose its shape.
If you plan on making any pies or cakes that use home made whipped cream, or you want to make your whipped cream in advance, it is crucial that you "stabilize" the whipped cream. This is the process for stabilizing your whipped cream for pies or toppings.
---