This is such a great light and bright classic Chinese Stir Fry dish. It's perfect on your busy weeknights and will go from refrigerator to table in under 30 minutes, the time it takes to cook your rice.

Snow White Chicken & Broccolette
Print recipe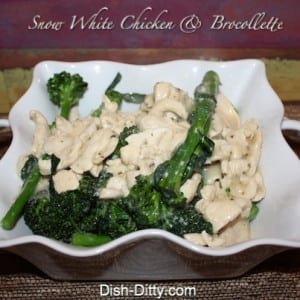 | | |
| --- | --- |
| Serves | 6 |
| Prep time | 15 minutes |
| Cook time | 10 minutes |
| Total time | 25 minutes |
| By author | Dish Ditty |
Ingredients
1.5lb Chicken Breast (thinly sliced)
1/2 cup Chicken Broth
1/3 cup Dry Vermouth
1 tablespoon Sesame Oil
1 teaspoon Rice Wine Vinegar
1 tablespoon Cilantro Paste
1/4 teaspoon White Pepper
1 teaspoon Garlic Salt
1 teaspoon White Sugar
2 tablespoons Cornstarch
1 1/2 cup Chicken broth
3 tablespoons Vegetable Oil
1 teaspoon Garlic Salt
1 bunch Broccolette
Directions
Step 1
In a medium sized bowl, combine 1/2 cup chicken broth, dry vermouth, sesame oil, rice wine vinegar, cilantro paste, white pepper, 1 tsp garlic salt, and white sugar. Stir well. Add the sliced chicken. Cover and refrigerate while you start your rice and clean/prepare your broccolette.
Step 2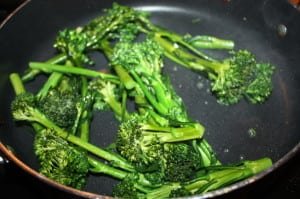 In a large wok or pan, add 1 tablespoon vegetable oil and heat on high. Add the cleaned broccolette and 1 teaspoon garlic salt and cook for 1-2 minutes or until the broccolette until it is bright green, stirring constantly. Remove from pan.
Step 3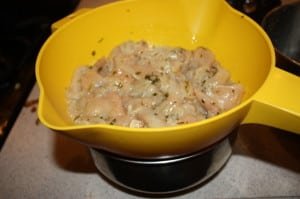 Drain the chicken, reserving the liquid. Add remaining 1.5 cups chicken broth to the reserved liquid. Stir in 2 tablespoons of cornstarch and set aside.
Step 4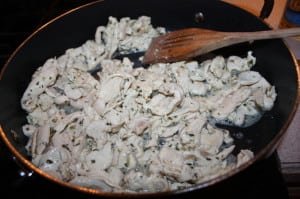 In the same pan you cooked the broccolette, heat with 2 tablespoons of vegetable oil on high. Add the strained chicken and cook, stirring frequently, until the chicken is almost completely cooked.
Step 5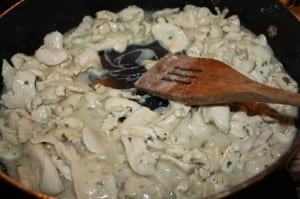 Add the liquid to the chicken and cook for about 1 minute, stirring constantly to create the sauce.
Step 6
Add back in the broccolette and cook for about 1 minute, coating the broccolette with the sauce. Serve hot with white rice.