This is a beautiful main course that has a little work in preparation, but then the oven does the rest of the work. Spinach Parmesan Stuffed Pork Loin is wrapped in bacon and, well, isn't that enough?
Spinach Parmesan Stuffed Pork Loin
Print recipe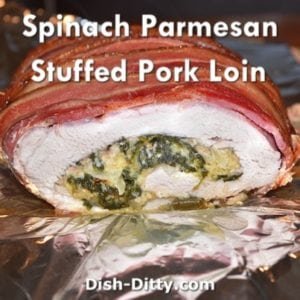 Ingredients
2 tablespoons butter
1/2 cup yellow onions (diced)
1/2 cup mixed bell peppers (diced)
1 tablespoon garlic (minced)
1/2 teaspoon garlic salt
1/4 teaspoon ground black pepper
1lb fresh spinach leaves
1 cup parmesan cheese
2/3 cups Italian style bread crumbs
1 egg (beaten)
4lb pork loin
10 Slices thick cut bacon
Directions
Step 1
In a large skillet, cook butter with onions, peppers, garlic, garlic salt, and black pepper. Sauté until onions are translucent and soft. Add spinach and cook, stirring constantly, until leaves are wilted. Remove from heat, place in a bowl and add the parmesan cheese. Let cool (about 10-15 minutes).
Step 2
While the filling is cooking, prepare the pork for stuffing. Here's a video I found that explains the process: How to prep meat for stuffed pork loin.
Step 3
Now that the filling is cooled down, add the bread crumbs and beaten egg. Place the filling on 3/4 of the pork and roll up. Wrap the bacon around the pork. If desired, use toothpicks to secure. I found it wasn't necessary.
Step 4
Place on a cookie sheet lined with foil and sprayed with Pam. Cover with foil and roast at 225 degrees for 1.5 hours. Increase temperature to 300 and roast for 30 minutes, or until the center reaches 145. Remove the foil and roast for 10-15 more minutes to brown. Remove from oven and let it rest at least 15 minutes before slicing. I wrapped it in tin foil and then brought it to my Dad's for dinner (about 1 hour later) and it was perfect.
---
I had bought a humungous pork loin at Costco. It was nearly 9 pounds and probably 2+ feet long. Why did I buy such a large pork loin? It looked smaller in the store. (That's my story and I'm sticking to it!)
Well, when buying such a large amount of meat, the choices are: invite 20 of your closest family and friends – or – break it up into different meals. Well, I chose a combination. Half of it i used for this dish and I brought it to my Dads and had dinner with him and my brother. Then the remaining ther half I made about 10 pork chops and still had a couple pounds left for diced pork. I think I made 5 different meals out of this one pork loin.
Anyways, I am not sure why I decided to stuff the pork, but I did what I always do and I looked in my refrigerator to figure out what was there. After pulling out the greens and veggies, I figured that a stuffed loin was the way to go. Oh, and bacon. Don't forget the bacon!
I really enjoyed this meal and I think you and your family will too. Enjoy!