Born out of desperation, I had 1/2 pound of thinly sliced steak a bunch of spinach and no idea what to do.  I didn't feel like making a Chinese stir fry (one of my goto weeknight cooking styles). I decided on pasta, started adding to it, and this was the result. My family loved it.  Probably not the healthiest meal, but it's home cooked, has veggies in it, and everyone was happy.
Steak & Spinach Alfredo
Print recipe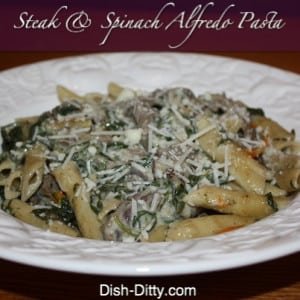 | | |
| --- | --- |
| Serves | 8 |
| Prep time | 10 minutes |
| Cook time | 20 minutes |
| Total time | 30 minutes |
| By author | Dish Ditty |
Ingredients
1/2 teaspoon Garlic Salt
1/2lb Beef (thinly sliced)
1 tablespoon Garlic Olive Oil (Or plain olive oil)
1/2 cup Red Onions (diced)
1/2 cup Diced Peppers (Pictured is Orange)
1 tablespoon Pesto Sauce
1/4 cup Red Wine
4 cups Spinach (or more)
1 jar Alfredo Sauce
1/2 cup Milk or Cream (any)
1/2 teaspoon Garlic Salt
1lb Penne Pasta
Romano Cheese (grated)
Directions
Step 1
Sprinkle beef with 1/2 teaspoon garlic salt.
Step 2
In large skillet, heat oil and sauté onions and peppers until onions are translucent.
Step 3
Add the beef cook on high heat until browned.
Step 4
Add the pesto and spinach and cook, stirring, until the spinach starts to wilt and has reduced half in size.
Step 5
Add the wine, alfredo sauce, milk (I usually use the milk to rinse out the jar), and extra garlic salt.
Step 6
Bring to a boil, reduce heat and simmer until the pasta is ready.
Step 7
Cook pasta according to directions on the packaging. Drain but DO NOT RINSE. Toss with 3/4 of the sauce, reserving the remaining sauce to pour on top of each individual serving. Top with grated romano cheese.