My father created this recipe many many years ago after lots of fun experimentation.  I'm so glad he wrote it down, because it is a wonderful marinade for grilled or smoked chicken.  It makes a lot, so be prepared.
I usually make a big batch then take 1/2 of it, bag it into a freezer zip lock bag (with the marinade), and freeze it for later use.  Turns out amazing that way.  Full of flavor.
Olympic Chicken
Print recipe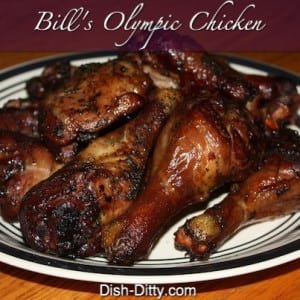 | | |
| --- | --- |
| Serves | 8 |
| Prep time | 10 minutes |
| Cook time | 30 minutes |
| Total time | 40 minutes |
| By author | Bill via Dish Ditty |
Ingredients
2 tablespoons Extra Virgin Olive Oil
2 cups Red Wine
1/4 cup Balsamic Vinegar
1/3 cup Garlic Season-All (If you can't find create a mixture of garlic powder & Season-All, equal parts)
2 tablespoons Seasoned Pepper
1/2 cup Dried Parsley Flakes
3lb Chicken
Note
Original Recipe called for 6 chicken breast, no skin, no bone, R-T-C, but I find that any chicken, bone in/out works perfectly.  Pictured above is mostly drumsticks and a couple of boneless thighs.