Swedish meatballs are a labor of love, but well worth the effort to make this creamy meatball dish from Sweden. No need to go to Ikea for this classic meatball dish, instead try this Swedish Meatballs Recipe.


Swedish Meatballs
Print recipe
| | |
| --- | --- |
| Serves | 36-42 meatballs |
| Prep time | 30 minutes |
| Cook time | 30 minutes |
| Total time | 1 hour |
| By author | Dish Ditty |
Ingredients
1/2 cup Hot milk (just scald, don't burn)
2 Slices White Bread
3 tablespoons Better than Bouillon Beef Base (Mix with boiling water)
1 cup Boiling Water (Mix with Beef Base)
3/4 cups Sweet Yellow Onion (finely chopped)
6 tablespoons Butter (divided 1 Tbl + 3 Tbl + 2=Tbl)
1.5lb 93% Lean Ground Beef
1 teaspoon Salt
1 Egg
1/2 teaspoon Black Pepper
1/8 teaspoon Allspice
1/4 teaspoon Ground Nutmeg
1/2 teaspoon Hungarian Paprika
1/4 cup Flour
3 cups Fat Free Milk (use less flour if whole milk)
2 tablespoons Fresh Parsley
Directions
Step 1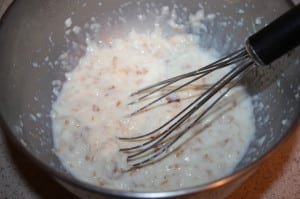 Pour hot scalded milk of white bread and mix to mush the bread with the milk. Set aside to cool.

In a separate small bowl, combine boiling water and beef bouillon base. Set aside to cool.
Step 2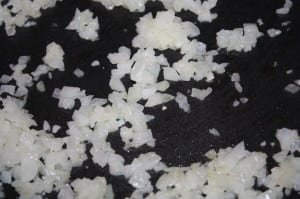 On medium heat, sweat onions in 1 tablespoon of butter, set aside. Do not brown the onions, just cook them until they start to get translucent.(do not clean pan)
Step 3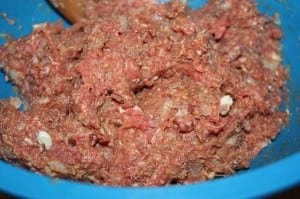 In large bowl, mix together the beef, salt, egg, black pepper, allspice, nutmeg, paprika, milk/bread mixture and softened onions. Mix well by hand, being sure that all the spices, onions and bread mixture are combined.
Step 4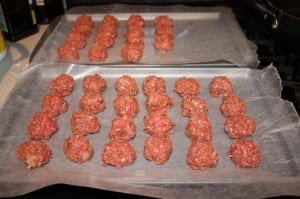 Form into 1 inch meatballs.
Step 5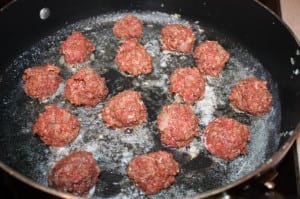 On medium-low heat, add 3 tablespoons of butter, and cook meatballs. Remove from pan and place on a cookie sheet in a 275 degree oven to keep warm.
Step 6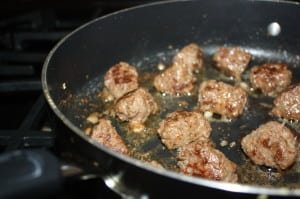 Cook in batches of 16-20, adding an additional 2 Tbl butter for each batch.
Step 7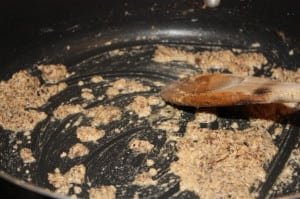 Increase heat to a medium and in same pan, add 1/4 cup flour and 1 tablespoon butter, whisk and brown, about 1-2 minutes.
Step 8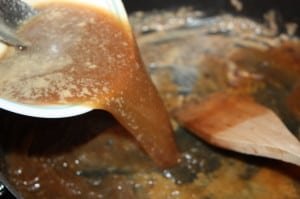 Add beef bouillon/water mixture.
Step 9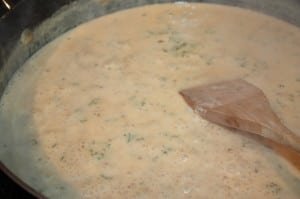 Add 3 cups of fat free or low fat milk, fresh parsley and cook, whisking until thick and bubbly. about 3-5 minutes.
Step 10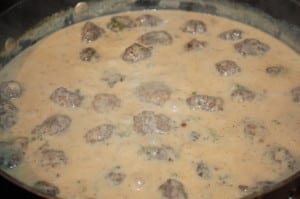 Add in the meatballs and cook for another 1-2 minutes.
Step 11
Serve over prepared egg noodles.

---
Usually I am lazy and I make my Swedish meatballs using the McCormick Swedish Meatballs seasoning packet.  It works well, but I always use 2 packets, add 1 cup of bread crumbs, an egg, and use 2 pounds of beef instead of 1.  That's my semi-homemade
Swedish meatballs…
This recipe, however, is 100% homemade and definitely worth the time and effort if you can. And seriously, these meatballs will spoil you and you will never go to Ikea again just to go for their Swedish Meatballs (yes, I do know people who have gone there for lunch just to eat there).
Enjoy!
---