This is perfect for date night or a small dinner party. French inspired, this Vintage Chicken has a simple white wine mushroom sauce which is sure to become a favorite in your house.
Vintage Chicken
Print recipe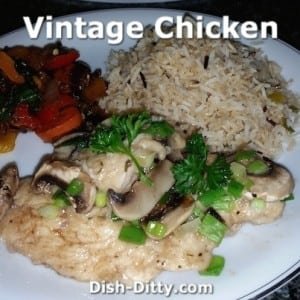 | | |
| --- | --- |
| Serves | 8 |
| Prep time | 15 minutes |
| Cook time | 30 minutes |
| Total time | 45 minutes |
| By author | Dish Ditty |
Ingredients
1/2 cup Flour
2 1/2 teaspoons Garlic Salt
1 tablespoon Fresh Rosemary (chopped fine)
3 tablespoons Butter
1-3 tablespoon Olive Oil
4 Large Chicken Breasts (boneless, split breast, sliced evenly)
1 cup Dry Vermouth (or other Dry White Wine)
6oz Fresh Mushrooms (washed and sliced)
1/4 cup Green Onions (chopped)
Parsley (as garnish, optional)
or Seasoned Pepper
1/2 teaspoon Ground Black Pepper
Note
4 chicken breasts: I used 2 Foster Farms  packages of 2 breasts each from Costco. Each breast serves 2 people.  Since they were very thick, I sliced them into thinner serving size pieces.
Also, I've modified the original recipe, which was given to my mother by her friend Sharon Slates. Original recipe follows.
Directions
Step 1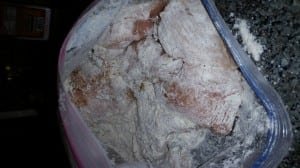 Place the flour, salt, pepper and rosemary in a large Ziploc bag. Add the chicken, and toss to coat evenly.
Step 2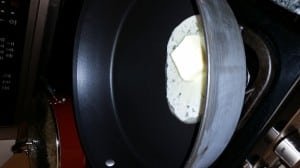 In a large pan with lid (chicken fryer works best), heat the butter and 1 tablespoon of oil on medium-high heat. You don't want it too high or the butter will burn.
Step 3
Dust off the chicken pieces to remove excess flour and add to the butter/oil pan. Brown the chicken on both sides. If you only have one layer of chicken, move on to the next step. Otherwise, remove the cooked chicken and place on a plate. Add more olive oil if needed and repeat until all the chicken is cooked.
Step 4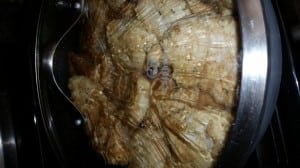 Add all the chicken back into the pan. Add the white wine and bring the whole mixture to a boil. Cover and simmer slowly for about 10 minutes (if you are using thick full pieces of chicken you may want to increase this to 15 minutes).
Step 5
Add the fresh mushrooms, cover and continue cooking for another 17 minutes.
Step 6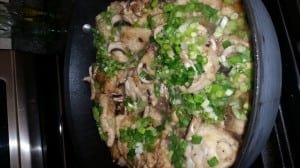 Reserve some green onions for garnish, and add the remaining green onions to the chicken dish, cover and cook for 3 more minutes.
Step 7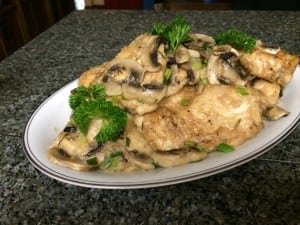 Remove the chicken and place on a platter. If the sauce isn't thick enough, bring the sauce to a boil and slowly boil until you get a thicker gravy.

Garnish the chicken with green onions and/or parsley and serve with the gravy on the side.
---
Vintage Chicken (Original Version)
Print recipe
Ingredients
6 pieces Chicken (Skinless light meat)
6 tablespoons Butter
2 tablespoons Flour
1 teaspoon Garlic Salt
1/4 teaspoon Seasoned Pepper
1/2 tablespoon Fresh Rosemary (chopped)
1 cup White Wine
4oz Mushrooms (chopped (I think it was meant for canned))
1/4 cup Green Onions (chopped)
2 tablespoons Fresh Parsley (chopped)
Note
This was the original recipe given to my mom by her friend Sharon Slates.
If you don't have fresh rosemary, use 1 tsp dried, chopped.
Directions
Step 1
Heat the butter in a heavy skillet. Mix the flour, garlic salt, seasoned pepper and rosemary in a Ziploc bag. Add the chicken pieces to the bag and thoroughly coat with the flour mixture. Brown the chicken pieces in the skillet. Add the white wine and bring to a boil. Cover and simmer slowly for about 20 minutes. Add the mushrooms with the juice and continue cooking another 15 minutes.

Step 2
Sprinkle the top with the green onions a few minutes before serving. Garnish with the fresh parsley.
---
I recently made this for our family dinner with 12 people, and was able to have the full dinner (including wild rice pilaf, salad, and vegetables) on the table within 1 hour and 15 minutes. Not bad considering I was serving 12 people.  I doubled this recipe and we had enough leftover for about 2-4 servings.
Not only did the adults love this, but the kids all had at least 2 pieces of chicken. I was worried at first that the wine flavor might be too strong for them, but they all loved it.
This is one of those dishes that brings back fond memories for me.  I remember my mom making this for her dinner parties. I would sit in the background and was always happy if there was enough for us kids to eat what the adults were having.
Later, when I became a teenager and started cooking with my mom, this was one of the first real dinners I think I made on my own without them.  One night when they were out, I had a 'Mystery Dinner Party' with a group of my friends. I served this and was so proud that I was able to make it. I think that was my first hint that cooking was in my blood.
Well, I guess that's enough rambling on about my memories of this delicious dish, so here are two recipes.  The first is the one I wrote down when I made this for my family, cut in half since you likely don't need to serve 12. The second is what we have written down in my family cookbook.
Enjoy!
---