When moving to a Whole 30 lifestyle, there are some easy ways to make your every day party foods healthy and compliant. This Coleslaw recipe is Whole 30 compliant AND is delicious. Modeled after my Grandma's Coleslaw Recipe, the modifications were minor without sacrificing the flavor.
Whole 30 Coleslaw
Print recipe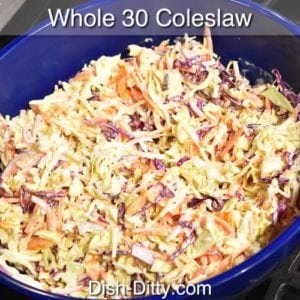 Ingredients
1-2 yellow bell peppers (thinly siced)
1/2 bag shredded carrots
1/2 bag shredded red cabbage
1 red onion (thinly sliced)
1 large cabbage (thinly sliced)
1 jar Primal Mayonnaise (12 oz)
2 tablespoons apple cider vinegar
1 tablespoon white vinegar
2 tablespoons unsweetened apple sauce (or more to taste)
fresh ground salt
fresh ground black pepper
Directions
Step 1
In a large bowl, combine peppers, carrots, cabbage, and onions together.
Step 2
In a medium bowl, combine the Primal Mayonnaise with the apple cider vinegar, white vinegar and applesauce. Stir until smooth. Add some salt and pepper and do a taste test. Add more salt, pepper or apple sauce depending on your tastes. I prefer my coleslaw less sweet.
Step 3
Add about 1/2 of the sauce to the vegetables, combine. Add more sauce if needed to get a nice creamy coleslaw. Refrigerate coleslaw for at least an hour to allow the cabbage to soften. Refrigerate the leftover sauce for future use.
---
Wholesome and Flavorful Whole30 Coleslaw Recipe
If you're on the lookout for a healthy and delicious side dish that fits into your Whole30 journey, this Whole30 coleslaw recipe is a must-try. Packed with fresh ingredients and a tangy dressing, this coleslaw is not only gluten-free and dairy-free but also bursting with flavor. Whether you're following a Whole30 lifestyle or simply looking for a nutritious and satisfying dish, this coleslaw will elevate your meals to a whole new level.
One of the best things about this Whole30 coleslaw recipe is its versatility. Enjoy it as a side dish alongside grilled chicken or fish, or use it as a topping for your favorite tacos or burgers. The crunchiness of the cabbage and carrots, paired with the tangy dressing, adds a refreshing element to any meal. Plus, since it's free from gluten, dairy, and added sugars, it's a fantastic option for those with dietary restrictions or simply seeking healthier alternatives.
Prepare a batch of this coleslaw ahead of time, as it gets even more flavorful as it marinates in the dressing. The vibrant colors and crisp textures will not only make your plate look appealing but also bring a delightful freshness to your palate. Don't be surprised if this Whole30 coleslaw becomes your go-to side dish even beyond your Whole30 journey, as it's a delicious and guilt-free addition to any meal.
Embrace the wholesome and flavorful goodness of this Whole30 coleslaw recipe. With its crisp vegetables, tangy dressing, and versatility, it's a perfect choice for those seeking a healthy and tasty side dish. Add it to your recipe repertoire and enjoy the vibrant and refreshing flavors that this coleslaw brings to the table.
One of my friend's decided to try Whole 30 earlier this year. When the super bowl came around, and we needed to bring something to her party, I decided to make the dishes I brought Whole 30 compliant so that she could eat them without any worries.
The main thing I made was Pulled Pork (basic recipe using Santa Maria Tri Tip Rub and just didn't include the honey and sugar). It turned out fabulous. And what goes with pulled pork? Coleslaw of course! And that's how this recipe was born.
I think the coleslaw turned out amazing and honestly, I'm thinking I should do it this way from now on.
Whole 30 or not, this Coleslaw is a great side dish to your buffet or picnic.
Enjoy!