Discover the ultimate convenience and deliciousness of our Instant Pot Chicken Brown Rice recipe. This wholesome and flavorful one-pot meal combines tender chicken, fluffy brown rice, and aromatic seasonings, all effortlessly cooked in the Instant Pot for a quick and satisfying dinner that will become a family favorite.
Instant Pot Chicken & Brown Rice
Print recipe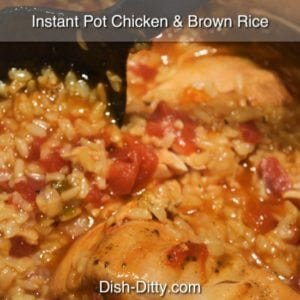 Ingredients
3 tablespoons light olive oil
1 medium onion (diced)
1 green bell pepper (diced)
1 orange bell pepper (diced)
6 large boneless skinless chicken breasts
1 tablespoon Santa Maria Rub (See notes)
1/2 teaspoon sage
1/2 cup dry vermouth
1 can fire roasted diced tomatoes with garlic
1 can diced tomatoes with green chiles
2 cans water
2 1/2 cups brown rice
Note
Get the recipe for Santa Maria Rub here.
Directions
Step 1
Set to SAUTE setting on your Instant Pot. Add light olive oil, diced onion, and diced peppers. Sauté until the onions are soft.
Step 2
Sprinkle the chicken breasts with the Santa Maria Rub and the sage. Brown chicken in the instant pot on top of the veggies, Do this in 2-3 batches for a better browning of the chicken. Add back all the browned chicken after all of pieces have been browned.
Step 3
Add the vermouth and cook for 1 minute.
Step 4
Add the canned tomatoes, brown rice and with each can of tomatoes, fill with water and add to the pot. Stir and cover.
Step 5
On Instant Pot, select CANCEL and then select POULTRY. Set the time to 30 minutes.
Step 6
When the 30 minutes are done, press CANCEL and allow for a natural release. If you are in a hurry, like I usually am, the fast release will work too, but your rice may be a little soupy.
---
Santa Maria Rub
Print recipe
Ingredients
2 tablespoons coarse salt
2 tablespoons coarse black pepper
3/4 teaspoons garlic powder
3/4 teaspoons dry mustard
3/4 teaspoons cayenne pepper
Directions
Step 1
Combine and use with your favorite bbq or smoked meat.
---
Note: This recipe makes quite a bit so you may want to half the recipe and only use one of the cans of tomatoes (pick the flavor that suits your mood best)
Delicious and Healthy Instant Pot Chicken Brown Rice Recipe
If you're looking for a quick, nutritious, and flavorful meal that can be prepared in a flash, this Instant Pot Chicken Brown Rice recipe is a game-changer. Combining the convenience of an Instant Pot with the wholesome goodness of chicken and brown rice, this one-pot wonder is perfect for busy weeknights or when you're craving a satisfying yet healthy meal.
Once you've set the Instant Pot, sit back and relax while it works its magic. In just a matter of minutes, you'll be rewarded with tender, juicy chicken nestled among fluffy brown rice. The dish is not only incredibly satisfying but also packed with protein and fiber, making it a wholesome choice for a complete meal.
Serve this Instant Pot Chicken Brown Rice with a side of steamed vegetables or a crisp salad to round out the meal. The leftovers make excellent meal-prep options for a busy week ahead. The convenience, health benefits, and mouthwatering flavors of this recipe will have you reaching for your Instant Pot time and time again.
Elevate your weeknight dinners with this delicious and healthy Instant Pot Chicken Brown Rice recipe. With its simplicity, nutritional value, and incredible taste, it's a winning combination that will satisfy your cravings while keeping you on track with your health goals. Let your Instant Pot do the work, and enjoy the comforting flavors of tender chicken and perfectly cooked brown rice in every bite.
I have been having fun with my Instant pot since i got it for Christmas in 2016. One of the things I have noticed, however, is that a lot of the recipes really aren't faster or easier to do that if I just did them on the stove, grill or in the oven. Which, honestly, was a bit of a disappointment for me. But, I adapt and have been figuring out ways to make my life easier with this amazing tool.
This recipe, is a very basic one pot meal and can be done on the stove or in the oven or even in a crock pot. But, I think it's a perfect fit for the instant pot and gives you a much juicer chicken.
Enjoy!
---