Did you get a new Instant Pot for Christmas but don't know what to do with it? Here's a simple and easy one pot meal that you can make with your new Instant Pot.
Instant Pot Chicken & Brown Rice
Print recipe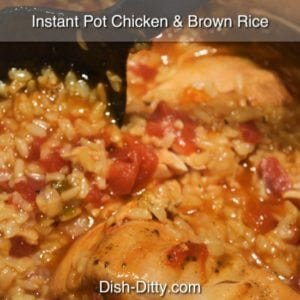 Ingredients
3 tablespoons light olive oil
1 medium onion (diced)
1 green bell pepper (diced)
1 orange bell pepper (diced)
6 large boneless skinless chicken breasts
1 tablespoon Santa Maria Rub (See notes)
1/2 teaspoon sage
1/2 cup dry vermouth
1 can fire roasted diced tomatoes with garlic
1 can diced tomatoes with green chiles
2 cans water
2 1/2 cups brown rice
Note
Get the recipe for Santa Maria Rub here.
Directions
Step 1
Set to SAUTE setting on your Instant Pot. Add light olive oil, diced onion, and diced peppers. Sauté until the onions are soft.
Step 2
Sprinkle the chicken breasts with the Santa Maria Rub and the sage. Brown chicken in the instant pot on top of the veggies, Do this in 2-3 batches for a better browning of the chicken. Add back all the browned chicken after all of pieces have been browned.
Step 3
Add the vermouth and cook for 1 minute.
Step 4
Add the canned tomatoes, brown rice and with each can of tomatoes, fill with water and add to the pot. Stir and cover.
Step 5
On Instant Pot, select CANCEL and then select POULTRY. Set the time to 30 minutes.
Step 6
When the 30 minutes are done, press CANCEL and allow for a natural release. If you are in a hurry, like I usually am, the fast release will work too, but your rice may be a little soupy.
---
Santa Maria Rub
Print recipe
Ingredients
2 tablespoons coarse salt
2 tablespoons coarse black pepper
3/4 teaspoons garlic powder
3/4 teaspoons dry mustard
3/4 teaspoons cayenne pepper
Directions
Step 1
Combine and use with your favorite bbq or smoked meat.
---
Note: This recipe makes quite a bit so you may want to half the recipe and only use one of the cans of tomatoes (pick the flavor that suits your mood best)
I have been having fun with my Instant pot since i got it for Christmas in 2016. One of the things I have noticed, however, is that a lot of the recipes really aren't faster or easier to do that if I just did them on the stove, grill or in the oven. Which, honestly, was a bit of a disappointment for me. But, I adapt and have been figuring out ways to make my life easier with this amazing tool.
This recipe, is a very basic one pot meal and can be done on the stove or in the oven or even in a crock pot. But, I think it's a perfect fit for the instant pot and gives you a much juicer chicken.
Enjoy!
---