This is by far the best chia seed recipe I've made so to date. This method is not a raw method, which is why I think it works better than all the other recipes out there. If you've ever wanted to try chia pudding, this is the best first recipe to start with. My favorite and it really is the World's Best Chocolate Chia Pudding Recipe.
World's Best Chocolate Chia Pudding
Print recipe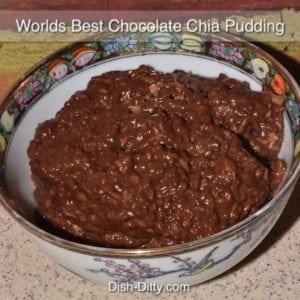 Ingredients
3 cups Califa Farms Toasted Coconut Almond Milk
6 tablespoons honey
1/4 cup unsweetened cocoa powder
1 tablespoon vanilla extract
3 dashes salt
3/4 cups chia seeds
1/2 cup unsweetened shredded coconut
Directions
Step 1
In a saucepan, combine coconut almond milk, honey and unsweetened cocoa powder. Stirring constatntly, heat mixture until it just comes to a boil. Remove from heat. Stir in the vanilla extract, salt and chia seeds. Let set for 1 minute. Stir in the unsweetened shredded coconut and let set for 10 minutes. Eat warm or refrigerate before eating.
---
If you've looked at the recipes posted here over the last year, you'll see a trend towards recipes that have no refined sugar, low in carbs, high in fiber and high in protein. And, you'll see me making, testing, adjusting, and trying out lots of chia seed pudding recipes.
As far as I can tell, all the recipes on the internet seem to be similar to my earlier chia seed recipes. They all start with cold milk, causing the chia seeds to get clumpy and really don't fully soften. The methods I've listed in my other recipes, like my Vanilla Chia Seed Pudding Recipe, all use a raw method but require a lot more chia seeds to get thick, and really isn't that pleasant to look at.  The Cookies & Cream Chia Seed Pudding Recipe is probably the prettiest one of the puddings I've previously made.
But after thinking about what was missing from these recipes and a traditional pudding, I realized that there was still a difference in texture. Well, there will be once you have seeds, but the thickness was just a little off. So, I first tried boiling the milk with the chia seeds, that wasn't too bad, but it wasn't quite necessary. With a little trial and error, I found that just starting with a hot liquid produced the gelatinous effect from the chia seeds that created that pudding quality.
In addition, adding the coconut tricks the brain so that you don't expect the pudding to be completely smooth, as you would a traditional full fat, full sugar, full milk pudding, since you'll taste the bits of coconut and ignore the little seeds floating around. You can certainly omit the coconut for a full-chocolate pudding (I've tried it and loved it), but if you are leery of the texture, add the coconut. And if you are really leery, add the traditional sweetened coconut then move later to the unsweetened. I am trying to remove myself from most refined sugars, so the unsweetened is the best for me. But the traditional sweetened coconut is a little more moist and will add even more sweetness to the dish.
The other thing that I think makes a difference is the flavor of the milk. In this one, I'm specifying Califa's Toasted Coconut Almond Milk.  That is by far my favorite milk for making chia pudding. I have made it with non-fat milk, almond milk, coconut milk and soy milk (I haven't yet tried cashew nut milk). All are fine and will work well, but the Toasted Coconut Almond Milk by Califa is definitely my go to choice.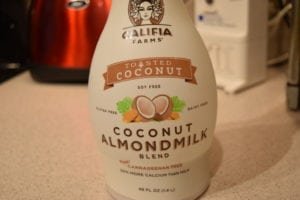 And no, there's no awards for this pudding, it's just my opinion that it's the world's best. After researching, testing, adjusting, eating, adjusting, researching, eating… I have found this method (the non-raw method) to be the most consistent and easiest to make.
So, try it… seriously! It is delicious! And healthy (ok, I know that's not a plus for some people).
Oh, and this can be cut into smaller portions easily.
Enjoy!