Do you like your ribs to fall off the bone? Or do you like them firm and fully attached?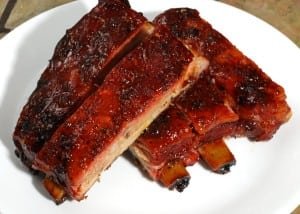 Recently I attend a 5 hour BBQ class held by a local BBQ catering and restaurant  company, Big Ed Buzzards BBQ.  This was a great class and was very informative.  I had many takeaways from this class and you'll see more from this class throughout the month of June as I reflect on the art of BBQ.  I took the class using a Groupon, went by myself and was not bored for a second.  Definitely a good gift to give to the BBQ enthusiast.  Even veterans will find some interesting information.
The one thing that stood out to me was the difference between "Fall off the bone" and "Competition Style" Ribs.  I've never thought much about it, always taking the "Fall off the bone" type as the best kind of ribs.  I tried my new style ribs recently for some friends last weekend.  I accidentally had the heat a little too high (250) on the ribs and left them too long (was having fun playing in the water), so by the time I got them out, they were still "Fall off the bone".  Oops.  At least that's what I thought at the time.  No one but me really noticed.  Everyone seemed to love them.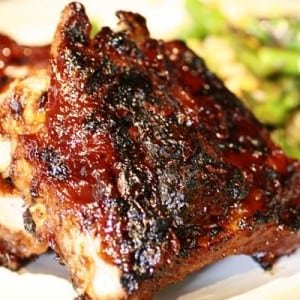 Now, I'll be honest, I've always loved fall off the bone ribs, and when I tasted Big Ed's Ribs, I loved his too.  My son (who is just starting orthodontist treatments), however, I didnot like them as they were more difficult to eat as the meat got stuck in his orthodontic appliances.  Then my neighbor said she loved my ribs, that's the way she likes them. So, I'm wondering…
Does the average person (who is not into BBQ competitions or is not a culinary professional) prefer their ribs to just fall off the bone? Or do they like them to be nice and neat like you'd see in a restaurant?
Visit Recipe Ditties for these two recipes and try them out for yourself.  Fall off the bone smoked Ribs Recipe and Restaurant Style Smoked Ribs Recipe.
Stop back here and let me know what you think!