"Bacon is the candy of meat."
― Kevin Taggart
Bacon Pom Desire Bark
Print recipe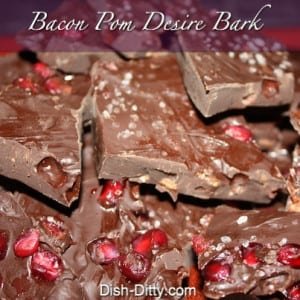 Ingredients
4 cups Sharffen Burger 62% Semisweet Chunks
2 tablespoons Heavy Whipping Cream
1 teaspoon Vanilla
1 tablespoon Kitchen Wax
1/2 cup Pomegranate Ariels
1/4 cup Scharffen Burger Cacao Nibs
4 Slices Bacon (cooked crispy, chopped)
1/2 teaspoon Coarse Sea Salt
Directions
Step 1
In double boiler, melt chocolate with cream, vanilla and wax.
Step 2
Cover a baking sheet with tin foil.
Step 3
Gently mix in the Pomagranate Ariels to the melted chocolate.
Step 4
Spread chocolate mixture evenly over tin foil lined baking sheet.
Step 5
Sprinkle bacon, nibs and salt on top of bark.
Step 6
Refrigerate for at least one hour.
Step 7
Remove from refrigerator, break into small, uneven pieces by hand.
Step 8
Keep refrigerated as it contains bacon and fresh pomegranates.