Traveling home from Malibu, we needed to stop for a late lunch so we turned to our good friend Yelp. My goal was to find the best Santa Maria Tri Tip since my husband had never tried it. We definitely found a great restaurant in our quest.
This restaurant came with 4 1/2 Stars on Yelp (which if you use yelp, you know that's super high for a restaurant) with tons of great reviews.

We were surprised when we turned off the 101 freeway to find the restaurant right there. No need to drive around town to access it. Pulling up it has a great California Western feel, with plenty of parking for large crowds.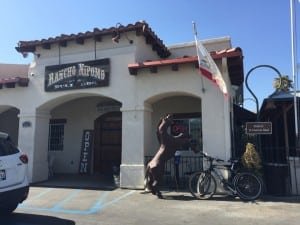 It sits on the Historic El Camino Real and even has an official El Camino Real Bell. If you're not familiar with the Historic El Camino Real, take a look at this wikipedia page describing the route used by missionaries for over 2 centuries.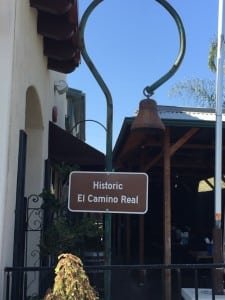 We arrived around 3:30p on Saturday and they had a large crowd for that time of the day. Ordering is done at the entrance, then you find your seat and wait for your food to be served to your table. Our first challenge was to figure out what to order. The menu is pretty extensive and is actually a bit larger than what is displayed on the wall.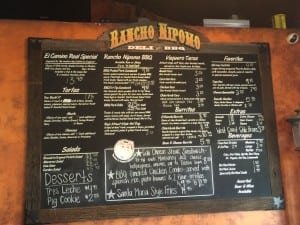 And then there's the hamburger board…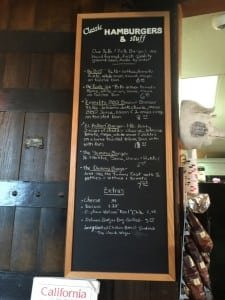 Since this was our first time here, we knew we wanted to try the Santa Maria Tri Tip Sandwich. Pulled Pork sandwich is always a go to for testing out a BBQ restaurant. I'm a chicken gal, and I saw someone with a quarter chicken going to the large salsa bar so I asked him about the chicken. He said he worked there and that the chicken was delicious (later we found out he was the owner). He let us know that the portions are pretty large and you can order either a quarter or half a chicken.
Seeing the chicken and hearing him describe the way the chicken was smoked, I decided to make that our third choice. I really wanted to try the Santa Maria Style Fries. I have no idea what that is, but boy does it sound good. But no way would we finish all that food, so maybe next time.
The price was pretty reasonable, it was $35 for a tri tip sandwich, pulled pork sandwich, quarter of a chicken plate, and potato salad. After we ordered we found a seat and sat down. There is plenty of seating inside and out, with a large out door patio and two indoor dining areas.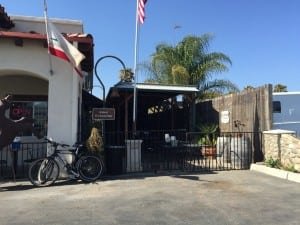 The tables are all oak with fun beer buckets holding the paper towels for the mess you are sure to incur after eating one of their BBQ sandwiches.
My husband immediately went to the salsa bar. He loves spicy food and was very impressed by the 'Very Spicy' Salsa. It was very spicy even to his tastes. And, he says, it tasted good. It wasn't just all spicy, the flavor was delicious. (I'll admit, I couldn't try it. Even the spicy one was too much for me). My husband says to give props to them for the salsa alone.
There were only a few bad yelp reviews, a couple of which stated that when they were busy the orders took a long time to come out. We didn't experience that at all. We had our food within 10-15 minutes of ordering.
On to the food… the Tri Tip Sandwich
Let's start with the highlight of the meal. The Tri Tip Sandwich. Wow. It was delicious. The tri tip was thinly sliced and had been slow smoked with Santa Maria seasonings. If you are unfamiliar with Santa Maria style tri tip, it is a dry rubbed tri tip with very simple yet spicy seasoning mix of garlic, black and white pepper, salt, and other seasonings. Here's a description from wikipedia:
Santa Maria-style barbecue centers around a beef tri-tip, seasoned with black pepper, salt, and garlic salt before grilling over coals of native coast live oak, often referred to as 'red oak' wood. The grill is made of iron and usually has a hand crank that lifts or lowers the grill over the coals to the desired distance from the heat. The Santa Maria Valley is often rather windy, so the style of cooking is over an oxidative fire as opposed to a reductive fire that many covered BBQs use.
Santa Maria style, as described above, is cooked over an open oak fire. Rancho Nipmo uses live unseasoned oak wood that is found native in California. The tri tip is slow smoked as opposed to cooked over the open fire. What makes this different is the smoke flavor from the oak really stands out. The tri tip, sliced thin, is served piled high (about 1/2 pound) on a delicious and large bun. A side of what I think is house made BBQ sauce is served with it.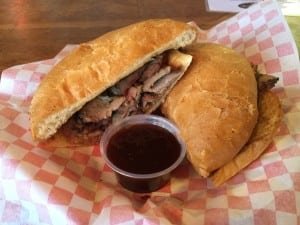 From beginning to end this sandwich is the BOMB! Yes, I said it… the BOMB! My son even said it was the best tri tip he has ever had.
The tri tip was well seasoned, sliced perfectly thin, and smokey. The bun was firm yet soft, holding that large amount of meat without falling apart and it didn't get soggy when the BBQ sauce was added.
The BBQ Sauce was delicious! I heard some yelp reviews that it wasn't thick enough. To me, this is the way BBQ sauce should be. I've stopped liking that thick molasses style BBQ sauce found in most bottled sauces. It had the perfect amount of tang, spice and sweetness. Lovely!
The BBQ Pulled Pork Sandwich
Next was the BBQ Pulled Pork Sandwich. It was served pile high on the same bun as the tri tip sandwich and can be ordered with either the coleslaw in the sandwich or on the side. The coleslaw was plain, but complimented the pulled pork nicely.
The pulled pork was tender and was pre-tossed in the BBQ sauce. Honestly, though, I would have preferred for the pulled pork to be served without the sauce mixed in so I can taste the pork and then add the amount of sauce I like. That's just my preference, though. The sandwich was really good and would have been thought of as amazing if it hadn't come after the tri tip sandwich.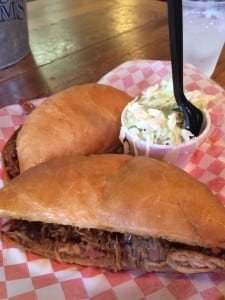 Let's be honest, I had a hard time getting this picture taken as my son was chomping at the bit to start digging into it. As you can see we opted for the coleslaw on the side, but it definitely should be served with it as it really enhances the flavor of the pork.
Next was the Smoked Chicken Plate…
And then the finale, the Smoked Chicken plate. Typical of a Cal-Mex restaurant, there is a lot of Mexican items on the menu. This is a deliciously seasoned (I think it was brined) and then smoked using the same oak wood as was used in the tri tip and pulled pork. It didn't have as smokey as a flavor as I would have liked, but it was very tender and flavorful.
I had to ask for BBQ sauce (nope, wasn't charged) and it paired nicely with the chicken. The spanish rice was good (not much to say about it, it was exactly what I expected) and the tortillas were just tortillas. Nothing special, but were fine none the less.
The only thing I didn't like of the whole meal was the beans. They were flavorless and had absolutely no salt whatsoever. I'm not sure if that was accidental or if they generally under season the beans, but I think they may need to work a little bit on their beans. My suggestion would be to use the Santa Maria style Pinquito Beans instead of the traditional Pinto Bean and be sure to season them after cooking. Taste taste taste! 🙂
The potato salad…
I'm a sucker for any salad, green, potato, macaroni, seafood. You name it. Put the name 'salad' at the end and I'll want it with my meal. So, just to see what the full range of this restaurant we ordered the potato salad.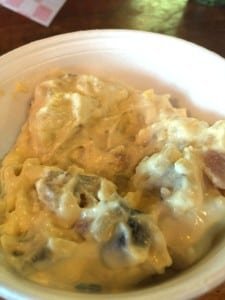 Even though I'm a sucker and always order the potato or macaroni salad, I'm also very picky. Having been raised with a more tangy potato and macaroni salad, I generally dislike most of the super sweet ones found at most grocery stores and restaurants. Why do I keep ordering them? I guess I'm optimistic. This time the potato salad was not sweet and had the right amount of salt/vinegar/sugar mix that I prefer. My only complaint was that it had olives. It didn't ruin the potato salad for me as they are easy to pick out, but I'm just not a fan of olives. Other than the olives, it was a very good potato salad and I probably would order it again.
The 'local' vibe…
One of the things that I love is a restaurant that is able to show it's own vibe. After meeting the owner, Richard, and talking with him for a bit, we learned he opened the restaurant a little over 10 years ago after having built the building himself. He was told by locals that his restaurant would never make it if he decided to serve BBQ, who would want that?
I think now the locals would agree that this is one of the highlights of Nipomo and they should be proud to have this great Cal-Mex restaurant in their little city.
But, I digress… Let's look at the restaurant interior.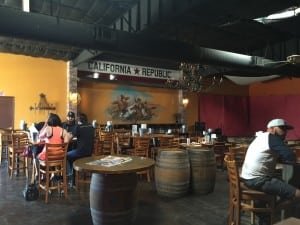 The restaurant is what I can only describe as Cal-Mex Western. The California oak, mission style, Mexican murals, and oak barrels decorate the large dining room. There is a large stage where they regularly host live music.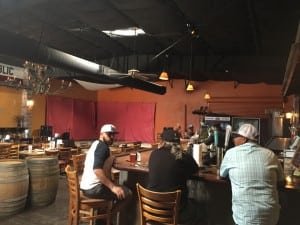 A large full bar sits in this expansive room and looks like a great place to unwind after a long day. Sitting in the bar with a drink, eating delicious BBQ or Mexican entrees, listening to live music… does it get any better? Of course, since I still had a 3.5 hour drive home, I wasn't about to imbibe…
The owner, Richard, deserves props…
While we were waiting for our son to use the bathroom, we started chatting with the same man I asked earlier about the chicken. My husband, knowing we wanted to write a nice review about the restaurant, asked him if the owner was here. He was funny and was like 'yeah, he's usually here'. He then asked 'Is he here now?'.  It was pretty funny, he said 'Well, you're talking to him now'.
The other guys at the bar chuckled and said 'He is the most modest guy around'. We laughed and started chatting with him about how he opened this restaurant and about the methods he used for cooking his tri tip and other foods. I loved hearing him talk about the traditions of using the California oak and the choices he made to smoke instead of cooking over the traditional Santa Maria style open fire pit.
We wound up talking for a good ten minutes or more. He has a wonderful vibe about him and can only be described by us as 'good people'. I love meeting and talking with independent restaurant owners who love what they do and are passionate about their food. Richard is one of those people that you can just talk with for hours, if given the time.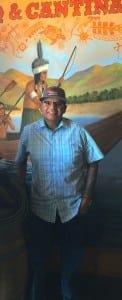 The result…
We give it three thumbs up! One for each of us. Thank you Richard for a wonderful dining experience in the middle of our not too long of a drive up the coast of California.