Starbucks Michigan Cherry Oat Bars (Copy Cat)
Print recipe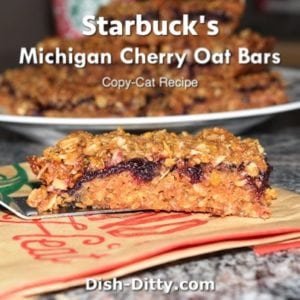 Ingredients
Base
3/4 cups butter (salted, room temperature)
1 cup brown sugar (packed)
1 egg
2 teaspoons vanilla
1 1/2 cup rolled oats (measured first then crushed)
1/2 cup corn flakes (measured first then crushed)
1/2 cup flour
1/2 teaspoon baking powder
1/2 teaspoon salt
Filling
2 cups frozen cherries (tart)
2 tablespoons lemon juice (approx 1/2 lemon)
1/4 cup sugar
1 1/2 tablespoon cornstarch
Topping
1 cup corn flakes (crushed)
1 cup rolled oats (crushed)
2 tablespoons flour
1 cup brown sugar (packed)
1/2 cup butter (salted, room temperature)
Directions
Step 1
Preheat oven to 350 degrees.
Step 2
Make the filling by placing the frozen cherries, granulated sugar, cornstarch and lemon juice in a medium pot. Cook on medium heat and smash cherries with a potato masher. Cook, stirring constantly until mixture is thick and bubbly. Remove from heat and set aside.
Step 3
Using a food processor, pulse the oats and cornflakes for the base and place in a medium bowl (bowl #1) . Then, using the food processor again, pulse the oats and cornflakes for the topping. and place in a medium bowl (bowl #2). You are looking for the flakes and oats to have a little bit of powder and most of the flakes to be reduced in size.
Step 4
To make the base, add to bowl #1 the following ingredients listed under Base: flour, baking powder and salt. Set aside. In a mixer, cream the butter with the brown sugar. Add the egg and vanilla and mix on medium until light and creamy (just a minute or two). Add the dry ingredients and mix until well combined. The mixture will be thick. Spread the base evenly on a greased 9x13 glass pan.
Step 5
Spread the filling onto the base and then move to the next step to make the Topping.
Step 6
Combine all the topping dry ingredients together, and stir to distribute. Add the butter and, mixing with your hand or paddle, combine until the dry ingredients are mixed with the butter and the topping is crumbly. Add topping evenly on top of the filling.
Step 7
Bake at 350 degrees for 20-30 minutes, or until fully cooked and topping is a caramel brown color. I am using a convection oven, and it was done at around 23 minutes.
Step 8
Remove from the oven and let fully cool before cutting into bars.
Day 3 of Dish Ditty's 12 Days of Christmas Recipes brings us
Starbucks Michigan Cherry Oat Bars Recipe
Yes, that's right, it's big and bold because it needs to be. Starbucks used to sell these every winter, but I have yet to find them this year. I'm so glad I took the time to workout the recipe so I can make it myself.
The original post has a long discussion on how I came up with the recipe including the different variations of the recipe before I finally settled on the one I liked.
So if you miss these delicious bars from Starbucks, this recipe is for you.