Beef Tenderloin with Gorgonzola Sauce
Print recipe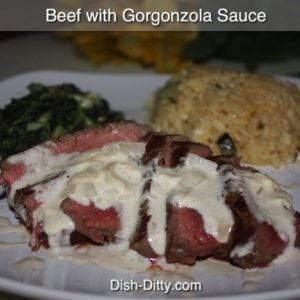 | | |
| --- | --- |
| Serves | 4 |
| Prep time | 10 minutes |
| Cook time | 20 minutes |
| Total time | 30 minutes |
| By author | Dish Ditty |
This is a special occasion dish for us like birthdays, anniversaries, or when we have special guests for dinner. It doesn't get better than this.
Ingredients
4 Beef Tenderloin Filets
Kosher Salt
Course Black Pepper
3 Shallots (finely chopped)
1 tablespoon Olive Oil
1 cup Dry Vermouth (divided)
1/2 teaspoon Grated Nutmeg (Fresh if possible)
1/2 teaspoon Cinnamon
1 tablespoon Fresh Thyme (or 1 tsp dried thyme)
1 cup Whipping Cream
1 cup Gorgonzola cheese (crumbled)
Note
Want a great way to use those leftovers?  I will sauté the beef with a little vegetable like zucchini or bell peppers for a couple minutes until heated through.  Then add the leftover Gorgonzola sauce and heat until bubbly.  Serve over linguini or fettuccine pasta.
Directions
Step 1
In a large skillet, heat oil and sauté shallots until translucent.
Step 2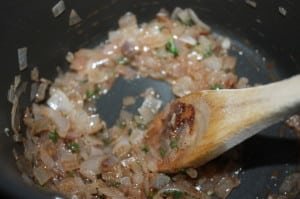 Add 1/2 cup of the dry white wine, nutmeg, cinnamon and thyme and cook until the liquid is almost all gone.
Step 3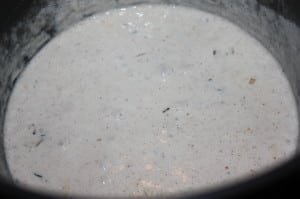 Add the whipping cream and the remaining 1/2 cup of wine and bring to a low boil. Reduce heat and simmer for about 5 minutes.
Step 4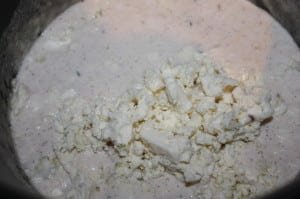 Stir in the Gorgonzola cheese. Cover and simmer on low while you prepare and cook the steaks.
Step 5
Heat grill or grill pan and spray with pam.
Step 6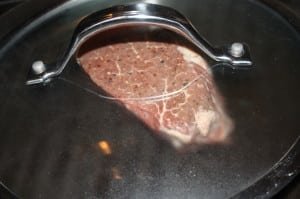 Season the beef lightly with kosher salt and course ground pepper. Place on medium-high grill (once you put the beef on the grill do not touch for a couple minutes!!!). If using a grill pan, place a lid or heavy plate on top of the beef to keep the heat while the beef cooks. If you have thinner cuts, this might not be necessary. But as you can see from this picture, these fillets are really thick and could use a little help getting the heat through.
Step 7
About 3 minutes of cooking, flip the fillets being sure to track the grill marks for the next step. Again, cover and cook on medium-high heat for another 3 minutes.
Step 8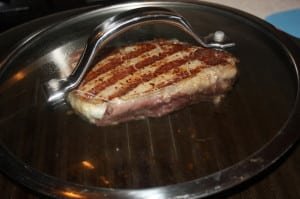 You are going to flip the fillets two more times. When doing so, you want to try to create a cross grill pattern, so flip and rotate the fillets. At this point, if you like a more medium-rare or rare steak you can cook for 2-3 more minutes on each side without the lid. Or, if you like a medium steak, put the lid on for the next steps. Or, if you like it well, reduce the heat and cook for 4-5 minutes on each side with the lid. It is always best to use a meat thermometer if you are unsure of the doneness of the fillets.
Step 9
Once the fillets are done to your liking, remove from heat and LET IT REST! This is when you can double check on your side dishes and make sure everything is ready to go.
Step 10
After 5 minutes, slice the beef and serve with the Gorgonzola sauce either drizzled on the steak or on the side.
Day 4 of 12 Days of Christmas Recipes is one of my favorite "fancy" dinners to make at home. This Beef Tenderloin with Gorgonzola Sauce is an elevated steak dinner and is perfect for a special Christmas Dinner.
#recipe #christmasrecipe #beefrecipe #beef #beeftenderloin #gorgonzolarecipe #christmas #dinnerathome #cookforyourself #timetocelebrate #celebrationrecipe #steak #steakrecipe #tistheseason #celebrate #dishditty #steakhousedinner #steakhouse