Decadent Dark Chocolate Mousse (no raw eggs)
Print recipe
| | |
| --- | --- |
| Serves | 8 |
| Prep time | 30 minutes |
| Cook time | 10 minutes |
| Total time | 40 minutes |
| By author | Dish Ditty |
This is heaven, just chocolate heaven, and it does not have any raw eggs like the traditional Chocolate Mousse recipe as made popular by Julia Child. It doesn't take long to make this and it's really easy. Really, it is.
Ingredients
4 Egg Yolks
1/4 cup Sugar
1 teaspoon Vanilla
1/4 teaspoon Salt
1 cup Semisweet Chocolate Chips
2 1/2 cups Heavy Whipping cream (divided into 1 cup + 1.5 cups)
Directions
Step 1
Always FREEZE your bowl and whisk before whipping your cream. FREEZE it for at least 30 minutes before you start.
Step 2
In a small bowl, whisk the egg yolks until they are light and fluffy. Set aside

Step 3
In medium saucepan, heat 1 cup whipping cream and sugar until hot. Do not boil. Temper the egg yolk mixture by whisking in one spoonful slowly from the hot mixture to the egg yolks. Do this about 3-5 times, tempering the yolks so that they do not turn into scrambled eggs when you add it to the cream mixture.
Step 4
Slowly pour the tempered egg yolk mixture into the hot whipped cream, whisking constantly. Again, do not boil. Cook over low heat for about 5 minutes, stirring constantly, until the mixture thickens. It should have the consistency of pudding.
Step 5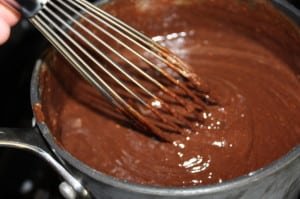 Stir in the vanilla, salt and chocolate chips. Make sure it is well combined. Refrigerate for about 30 minutes, stirring occasionally to keep from clumping.
Step 6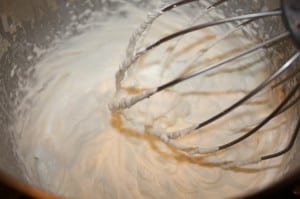 Using your frozen, chilled bowl and whisk, beat the remaining 1 1/2 cups of whipping cream on high speed until it's stiff.
Step 7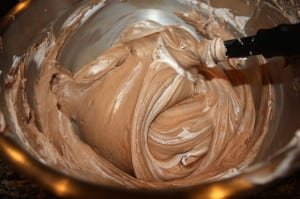 FOLD IT! DO NOT STIR! This is the most critical step. You want to fold the two mixtures together. To fold, use a wide spatula or spoon, and lift the items from the bottom around and to the top. You don't stir it in. It will look like nothing is happening at first, and this is ok. The motion consists of cutting vertically through the mixture and sliding across the bottom of the bowl and up the side and then turning over. Repeat until ingredients are incorporated.
Step 8
Place in serving dishes and serve. Top with Stabilized Whipped Cream.
On Day 5 of Dish Ditty's 12 Days of Christmas Recipes, we bring you our Decadent Dark Chocolate Mousse Recipe. Most classic mousse recipes call for raw eggs which is not desirable. This recipe brings you a delicious mousse made without raw eggs.
Enjoy!