Peppermint Chocolate Cookies
Print recipe
Ingredients
1 cup unsweetened cocoa powder
1 1/2 cup white granulated sugar
1/2 cup vegetable oil
4 eggs
2 teaspoons vanilla extract
1 tablespoon peppermint extract
2 cups all-purpose flour
2 teaspoons baking powder
1/2 teaspoon salt
6 peppermint candy canes (crushed)
Directions
Step 1
Preheat oven to 350 degrees.
Step 2
In a bowl, whisk the flour, baking powder, and salt together. Set aside
Step 3
Using an electric mixer, beat together the cocoa powder, white sugar and vegetable oil until it creates a shiny, gritty dough. It won't be smooth, that's ok.
Step 4
Add the eggs, one at a time, mixing for 30 seconds with each addition to make sure it is well incorporated. Add the vanilla extract and peppermint extract.
Step 5
Slowly add the dry ingredients to the wet and mix on low speed until combined. Do not beat.
Step 6
Form into balls and place on cookie sheets lined with parchment paper. Top with crushed peppermint candy canes. Press down slightly so candy is pressed into dough.
Step 7
Bake at 350 degrees for 10-12 minutes. Remove from heat and let cool before serving.
12 Days of Christmas Recipes…  Day 8
Peppermint Chocolate Cookies
Day 8 of 12 Days of Christmas is another delicious cookie recipe for your holidays. Nothing beats chocolate and peppermint with these Peppermint Chocolate Cookies. Simply scrumptious.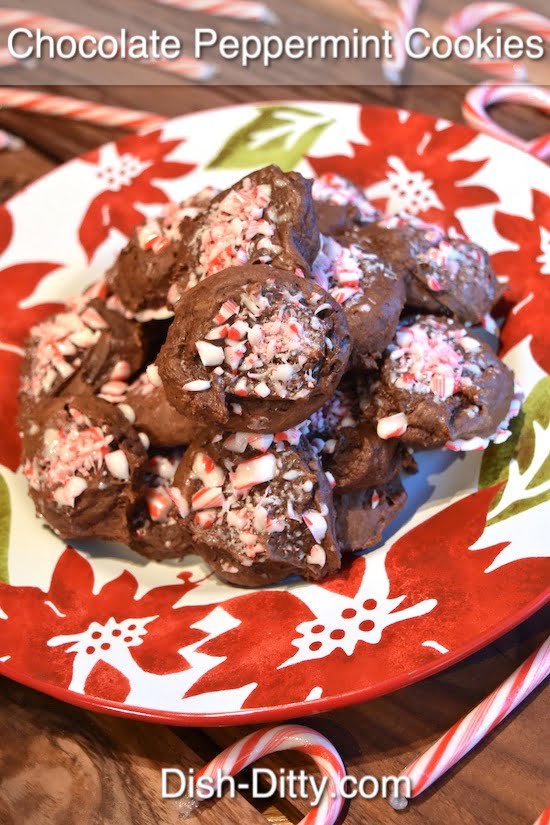 #recipe  #christmas #christmasrecipe #recipes #cookies #cookie #cookierecipe #cookierecipes #recipes #christmasrecipes #christmacookies #christmascookie #christmascookierecipe #christmascookierecipes #dessert #desserts #dessertrecipe #dessertrecipes #chocolate #peppermint #yummy #christmastime #traditions