Polish Nut Rolls (aka Easter Nut Roll)
Print recipe
| | |
| --- | --- |
| Serves | 9 loaves |
| Prep time | 2 hours |
| Cook time | 30 minutes |
| Total time | 2 hours, 30 minutes |
| By author | Dish Ditty |
Ingredients
Dough
1 cup Milk
1/2 cup Sugar (+ 1 Tbl for Yeast)
1 1/2 teaspoon Salt
1 cup Butter (melted and cooled to less than 110 degrees)
3 packets Active Dry Yeast
3/4 cups Warm Water
5 Medium Eggs (lightly beaten together)
7-8 cups All Purpose Flour (or as much needed to make soft, elastic dough -- amount varies)
2oz Whiskey
Walnut Filling (approx 1 c. per roll)
6 1/2 cups English Walnuts (chopped fine, can substitute pecans in a pinch)
1 1/2 cup Butter
3 cups Sugar
1 1/2 cup Milk
5 Medium Egg Yolks
Icing Mixture
1 1/2 tablespoon Butter (melted)
2 Medium Egg Whites
1 teaspoon Vanilla Extract
1lb Powdered Sugar
Note
Warm it up: These are so delicious when warm. Just heat a slice of the nut roll in the microwave for 10-20 seconds.
Can be frozen: These work well frozen (best without icing). Just bake, cool, and wrap tightly with plastic wrap before freezing.
Grandma's recipe: My grandma's recipe's instructions just said "Spread walnut filling on sweet dough: roll and bake". This is my mom's version with a little more instruction!
Variation 1: The walnut filling is perfect as a filling for shortbread tartlets, topped with a little melted chocolate.
Variation 2: Suz came up with a variation that is also delicious. Take a well gelled pie filling or jam and spread on the sweet dough and roll up as normal. Make sure the dough isn't rolled out too thin for this variation otherwise the dough stays too wet and won't bake all the way. Cool and ice the same as regular nut roll.
Directions
Make the Walnut Filling First
Step 1
Make the walnut filling first so that it has time to cool fully before using. Mix all ingredients in a saucepan and bring to a boil, it will take some time to come to a boil. Turn down heat and simmer for about 5 minutes, stirring occasionally. Cool to room temperature before spreading on the rolled out dough. Reserve at least 2 egg whites for the icing mixture.
Make the Dough
Step 2
Scald milk (heat until bubbles start to form) in a saucepan (or microwave, approximately 90 seconds). Remove from heat and stir in sugar, salt and butter. Stir until the butter is completely melted. Cool to lukewarm.
Step 3
In a large mixing bowl, dissolve the yeast in the lukewarm water (100-110 degrees) and add in about 1 Tablespoon of sugar. Allow to sit until mixture starts bubbling (this is called proofing the yeast). Stir in the milk mixture followed by the eggs, whiskey and then the flour, added one cup at a time. Add the flour until a soft elastic dough forms. If using a stand mixer, use the paddle for the first 4-5 cups and then switch to the dough hook. Once you have added all the flour, knead the dough either by hand or in a mixer with a bread hook for about 5 minutes. Put the dough into a greased (Crisco, butter, or olive oil) bow, cover with a damp towel and let raise until doubled in bulk (between 30-45 minutes).
Step 4
Punch the dough down after doubling, then separate (pull or cut) into nine equal portions. Keep the portions of dough waiting to be rolled covered with a damp towel. Form one of the portions into a ball (about the size of a softball). Roll out the ball on a floured board into an 18 inch round pizza pie shape. Spread a generous portion of the walnut (see below for recipe), on the surface of the dough, leaving about 1 inch of dough without filling so you can make a seam when rolled. Roll up into a long loaf, being sure to end the roll on the filling-free side. Place the roll, seams side down, onto a greased (with Crisco or Pam) cookie sheet, leaving some room in between the rolls to raise, cover with a damp towel, and allow them to raise until doubled in bulk (about 30 minutes).

**About 2 rolls per cookie sheets will allow enough room for raise without touching. If the rolls touch, you are likely to have walnut filling leaking through and the dough in that spot won't be done.
Step 5
Once doubled, make sure there is still room between each rolls to allow for further rising in the oven during baking. Bake at 350 degrees for approximately 18 minutes until golden brown on top. Cool and ice with the icing mixture below.
Step 6
Blend the butter, egg whites and vanilla extract in a bowl. Gradually stir in the powdered sugar. Adjust with a little water or powdered sugar as necessary for a smooth creamy texture.
12 Days of Christmas Recipes…  Day 9
Grandma's Polish Nutroll
Day 9 of 12 Days of Christmas highlights a traditional Polish Nutroll recipe. Generally this is an Easter traditional sweet bread (Polish Easter Nutroll Recipe), but my mom would make these for the neighbors and friends every Christmas instead of cookies. If you are looking for a traditional Polish recipe, this is the one you want. So delicious.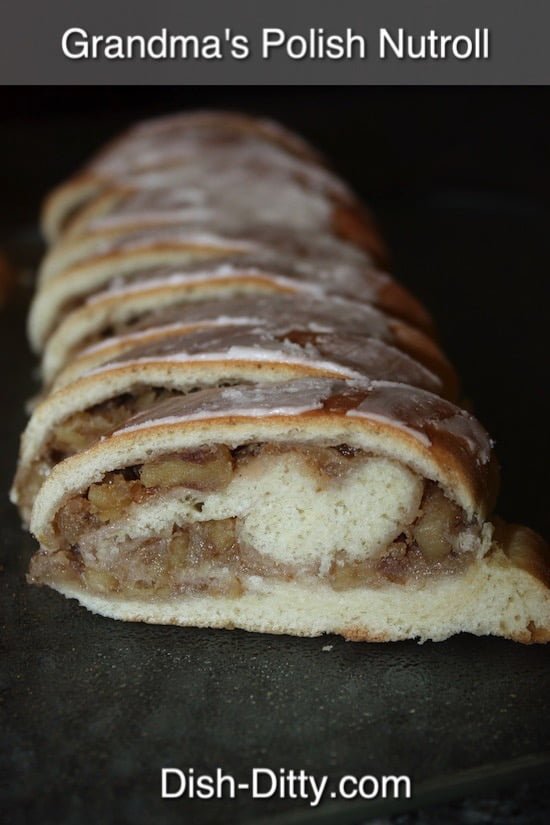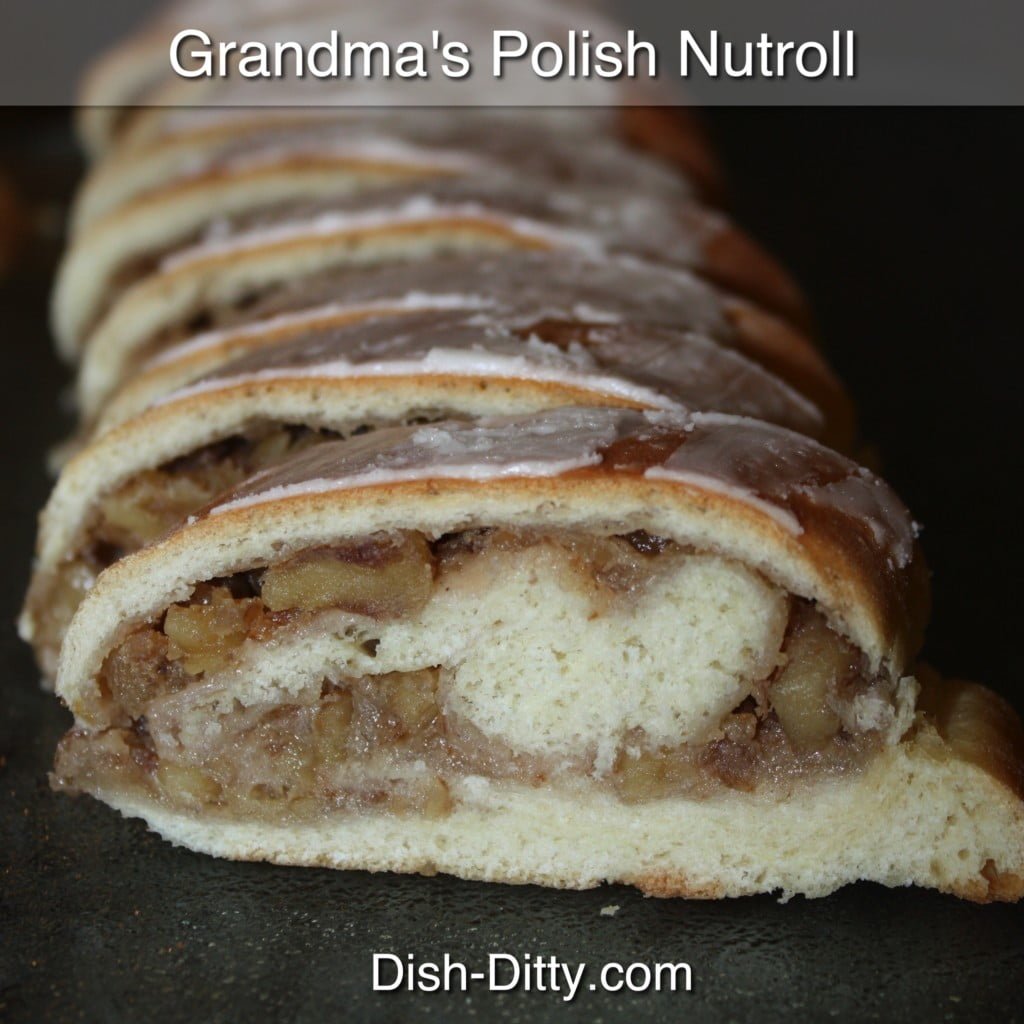 #recipe  #christmas #christmasrecipe #recipes #pastry #pastryrecipe #sweetbread  #recipes #christmasrecipes #christmacookies #christmascookie #christmassweetbread  #dessert #desserts #dessertrecipe #dessertrecipes #walnut #walnuts #walnutrecipe #walnutrecipes #yummy #christmastime #traditions #easternutroll #polishtraditions #polishrecipe #polishrecipes #nutrollrecipe #nutrollrecipes