This Banana Nut Bread/Muffin recipe can be made with or without chocolate, and is delicious and moist either way. The best part about banana bread/muffins is that the bananas make them so moist. Shown as a muffin, but the original recipe is as a banana bread.


Banana Nut Bread/Muffins
Print recipe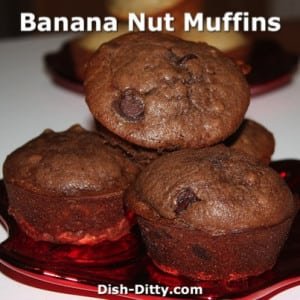 Ingredients
1 3/4 cup Flour
2 teaspoons Baking Powder
3/4 teaspoons Salt
1/8 teaspoon Ground Allspice
1/8 teaspoon Ground Cloves
1/2 teaspoon Ground Cinnamon ((original recipe called for 1/4 tsp, I upped it to 1/2))
1/2 teaspoon Ground Nutmeg
1/2 cup Vegetable Shortening or Butter ((I used butter))
1 cup Sugar
2 Large Eggs
1 teaspoon Vanilla Extract
1 cup Banana (ripe & mashed)
1/2 cup Milk
1/2 cup Walnuts (chopped, optional)
For Chocolate Version
1/3 cup Unsweetened Cocoa Powder
6-12oz Semi Sweet Chocolate Chips
Directions
Step 1
In a bowl, mix together flour, baking powder, salt, allspice, cloves, cinnamon, and nutmeg (you can choose to omit the allspice, cloves, cinnamon and nutmeg if doing the chocolate version, but I like it with both). If you are doing the chocolate version, add the cocoa to the flour mixture as well. Use a whisk to combine and set aside.
Step 2
In a mixer, cream the butter and sugar together. Add the eggs and vanilla and beat for 1 minute. Add the bananas, and mix until combined. Slowly had half of the flour and mix until combined. Add 1/2 of the milk and mix until combined. Add more flour, mix until combined, add the remaining milk (and yes, mix until combined) and then the last of the flour and mix until combined.
Step 3
Beat the batter for about 1 minute, scraping the sides once or twice to be sure the batter is well combined. Stir in the walnuts and chocolate chips.
Step 4
If making muffins, you can either use cupcake baking cups/liners or spray the muffin pans with Pam Spray (what I did since I was out of the papers). Fill almost to the top with the batter. Bake at 350 degrees for 18-22 minutes, or until cupcakes come out clean.
Step 5
If making banana bread, use either two small loaf pans or one large loaf pan. Grease and flour the pan(s), and pour in the batter. Bake at 350 degrees for 25-32 minutes or until a toothpick comes out clean.
---
This is a recipe that has sat in my family cookbook half written. The ingredients were all there, but the instructions just trailed off. I tried it out (adding more cinnamon as it seemed a little light) and then did a batch with chocolate. Both were absolutely yummy! As a matter of fact, that's all the recipe said other than the ingredients was "Yummy!".
I have no idea the origin of the recipe, maybe my grandmother? Maybe my big sister? Maybe someone will fess up. Either way, it's a winner. Enjoy!
No, this doesn't fit into my current 'clean eating' diet. But I do give myself a few cheats, this was one of them.