I just love BBQ Pork Chow Mein and it definitely is an american favorite at Chinese Restaurants around the nation.

BBQ Pork Chow Mein
Print recipe
| | |
| --- | --- |
| Serves | 6 |
| Prep time | 5 minutes |
| Cook time | 15 minutes |
| Total time | 20 minutes |
| By author | Dish Ditty |
Ingredients
1 packet Thick Chinese Egg Noodles (I used fresh Pancit noodles, not cooked *See note)
2 tablespoons Soy Sauce
2 tablespoons Lo Mein Sauce (or substitute 2 Tbl oyster + 1/2 tsp sugar)
1 tablespoon Chinese Shaoxing Wine (or Cream Sherry)
2 cups BBQ Pork (diced)
2-3 tablespoons Vegetable Oil
3-5 cups Chinese Vegetables (Napa Cabbage, Bean Sprouts, Green Onions, Celery, Bok Choy, etc.)
Directions
Step 1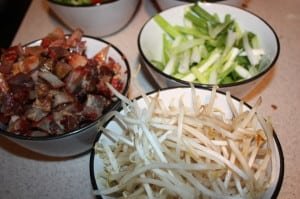 Wash & cut up your vegetables. I chose just bean sprouts and green onions.
Step 2
In a small bowl, combine the soy sauce, lo mein sauce and wine. You can substitute rice wine vinegar if you are alcohol-free.
Step 3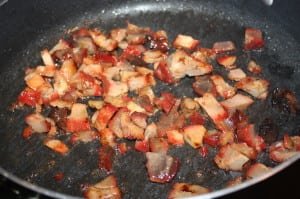 In a large wok or pan, heat on high. Add the vegetable oil and the diced BBQ Pork. Cook until pork is hot and starting to get light brown (don't cook so much that it gets completely brown, just a hint).
Step 4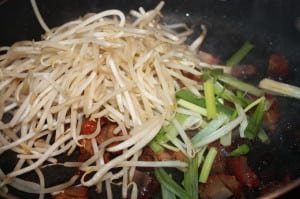 Add the vegetables and cook for about 1 minute, mixing well with the pork and stirring constantly. The green onions should start to get soft.
Step 5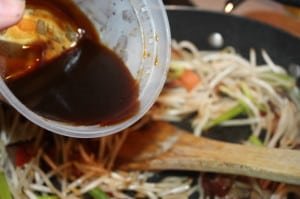 Add the sauce prepared in step 2 above. Cook for another minute.
Step 6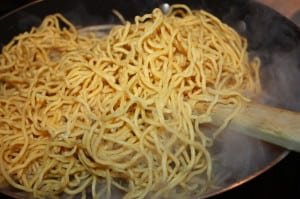 Add the uncooked Pancit noodles. Stir constantly combining the vegetables, sauce and noodles. Cook for about 3-5 minutes on high, continuing to stir constantly, until the noodles have absorbed all the liquid and are starting to get browned.
Step 7
Now, you can choose to brown the noodles completely, but generally I just like them the color you see in this picture. You'll notice a couple noodles are light brown, but they aren't crispy.
Step 8
* Picture of Noodles I used. Note that if you are using a dry noodle, you will want to cook the noodles in hot water, removing them when they are al dente. Be sure to rinse with cold water and completely drain before starting. Otherwise, the liquid may make the noodles mushy.

And yes, I know these technically are Filipino noodles, but they are the only good fresh, thick noodles I can find at the Chinese market near me. And they make a delicious chow mein.
---
This is a simple dish to prepare and is a great one-dish meal, especially for lunch. This recipe is designed for BBQ pork, so substituting other meats may not work unless you marinade the meat appropriately and cook it well before adding the vegetables. But, if you are looking for an adaptable recipe for uncooked meat, try our Chicken Chow Mein recipe.
Now, onto the show, here's the recipe. Enjoy!
---