Ribeye, onions and more onions. Oh My! Double Onion Ribeye is a quick steak to prepare and can be done on an indoor grill pan. It is so delicious you'll wonder why you even have a grill.
Double Onion Rib Eye
Print recipe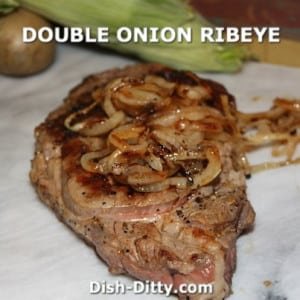 | | |
| --- | --- |
| Prep time | 5 minutes |
| Cook time | 20 minutes |
| Total time | 25 minutes |
| By author | Dish Ditty |
Ingredients
Ribeye
Garlic Olive Oil
Montreal Steak Seasoned
Dried Minced Onions
Yellow Onion
Salt
Directions
Step 1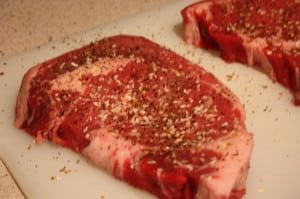 Rub garlic olive oil on ribeye, sprinkle with Montreal Steak seasoning and dried minced onions. Press the seasonings onto the steak.
Step 2
Slice the onions into thick round slices. Sprinkle lightly with salt.
Step 3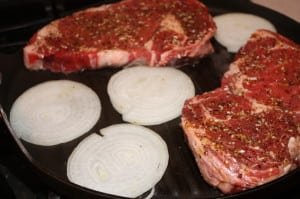 On a grill or grill pan, heat on high. Spray with Pam and add the ribeye and onions, leaving 1/2" between the steaks to allow them to cook properly. You don't want them touching.
Step 4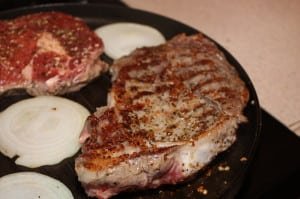 Cook on high for about 4-5 minutes, or until the ribeye lifts easily from the pan, they should have nice grill marks like this one on the right.
Step 5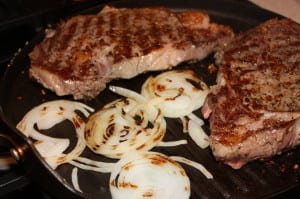 Flip the onions over at the same time, they should have started to brown as well.
Step 6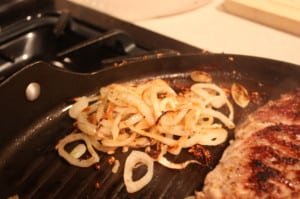 Reduce the heat and continue cooking, flipping the steak only two more times, if needed. When flipping, try to flip and turn so you wind up with crisscross pattern grill marks. Mix the onions and grill, turning the onions frequently to make them nice and golden. If you move the onions onto a part of the grill that had been cooking the steak, they will take on a hint of the seasonings.
Step 7
Remove the steaks and onion from the grill/pan when it reaches your ideal temperature.
Rare: 125°F
Medium Rare: 135°F
Medium: 145°F
Medium Well: 155°F
Well Done: 165°F
Step 8
Let rest for at least 5 minutes, but 10 minutes is ideal. Serve topped with grilled onions
Step 9
Garlic Olive Oil I purchased from Costco
Step 10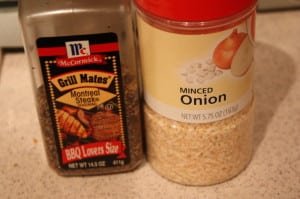 Seasonings used