This is definitely one of my son's favorites, at home or a restaurant.  I love the bright broccoli and the tenderness of the beef.  The two are married perfectly together in this Beef with Broccoli recipe.  Look over the recipe, it really is simple to make and it's one of my goto dishes for a weeknight.  The best thing to do is to slice the beef in advance and marinade it so you can throw this dish together in 20 minutes, the time it takes for the rice to cook.
Beef with Broccoli
Print recipe
| | |
| --- | --- |
| Serves | 6 |
| Prep time | 10 minutes |
| Cook time | 10 minutes |
| Total time | 20 minutes |
| Region | Chinese |
| By author | Dish Ditty |
A typical Chinese restaurant dish, this Beef with Broccoli is perfect for a weeknight meal. The broccoli is bright and fresh, the beef is tender and the two together is perfection.
Ingredients
2 cups Marinated Beef (See Recipe Notes for link to recipe)
2 tablespoons Corn Starch
1 cup Beef Broth
1 cup Oyster Sauce
1/4 cup Soy Sauce (light)
1 teaspoon Sugar
3/4 cups Green Onion (chopped)
1 Broccoli Crown (cut up)
3 tablespoons Oil
Note
Recipe for Marinated Beef for Chinese Stir Fry.
Directions
Step 1
Mix together marinated beef and cornstarch in bowl and set aside.
Step 2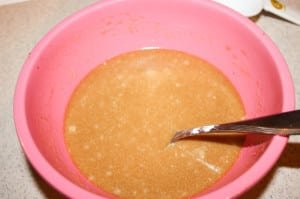 In small bowl, mix together beef broth, oyster sauce, soy sauce and sugar. Set aside.
Step 3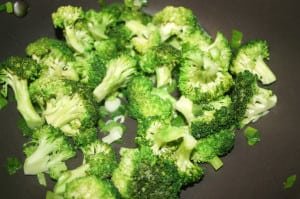 In large pan or wok, heat 1 Tbl oil. Add green onions and broccoli and cook on high, stirring constantly, until broccoli is bright green. Do not overcook. It shouldn't take more than 2 minutes. Remove from pan and set aside for adding back to dish after next step.
Step 4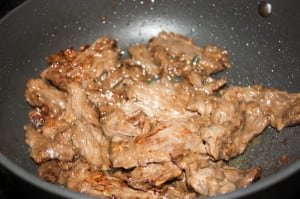 In the same pan (no need to clean), heat 2 Tbl oil. Add beef mixture and cook on high, stirring constantly, until browned.
Step 5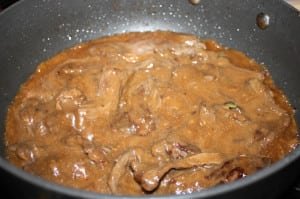 Keeping the beef in the pan, add the liquid mixture and heat to bubbling, stirring constantly. Should take about 1 minute. Cook for about 30 more seconds after it reaches bubbly state.
Step 6
Add back in the broccoli to the beef and mix to just coat the broccoli and bring it back to temperature. Do not overcook! The broccoli can quickly go from bright green to brown and soggy. The goal here is just get it tossed together. Remove from pan and serve. Best when served over rice.
Chinese Marinated Beef for Stir-Fry
Print recipe
This recipe is used as a base for many of my Beef Stir fry recipes. You can use as the base for most beef stir fry dishes like Beef with Broccoli, Beef Noodle Soup, etc. I usually make a couple pounds at a time and will then freeze half and then make several different stir fry dishes throughout the week.
Ingredients
2lb Beef (sliced thin)
1/4 cup Garlic (minced)
3/4 cups Soy Sauce (light)
1 teaspoon Sugar
1/4 cup Oyster Sauce
Note
This will last in the refrigerator based on how long your beef will stay fresh.  Most beef will have about 3 days of freshness, or more.
I found that flap meat is the best type of beef to use.  Do not use london broil, as it will be dry.  Tri-tip is fine.  Skirt steak is good, but is hard to slice thin.
Directions
Step 1
Mix everything together, cover and refrigerate until ready to use. Most stir fry recipes will take about 1/2-3/4 pounds of beef.