Chinese Beef with Crystal Noodles is great for the gluten-free home and is a great alternative to Lo Mein (more commonly known as Chow Mein).  I'm not gluten-free, but this is something I make on a regular basis and my whole family loves it.
Chinese Beef with Crystal Noodles
Print recipe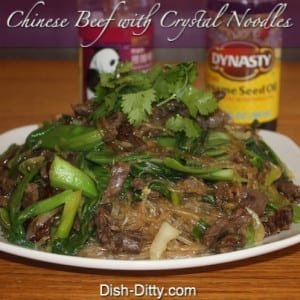 | | |
| --- | --- |
| Serves | 6 |
| Prep time | 10 minutes |
| Cook time | 10 minutes |
| Total time | 20 minutes |
| Region | Chinese |
| By author | Dish Ditty |
Ingredients
4-5 cups Mixed Chinese Greens (Baby Bok Choy, Napa Cabbage, Green Onions, etc.)
2 cups Marinated Beef (See recipe notes for marinated beef recipe.)
1 tablespoon Cornstarch
2 tablespoons Sesame Oil
1 Package Saifun Noodles (Dry)
1/4 cup Lo Mein Sauce (Panda Brand)
Cilantro (for garnish)
Note
Marinated Beef by Dish Ditty is used in many of my beef stir fry dishes. To make it gluten free, be sure to use gluten-free Soy Sauce like 'Kikkoman Soy Sauce Gluten-Free". I like to make a big batch and freeze it marinated and uncooked in 2 cup portions for use later.
Directions
Step 1
Soak Noodles in hot water while you continue onto the next steps. It will take about 10 minutes or so to do all the preparation.
Step 2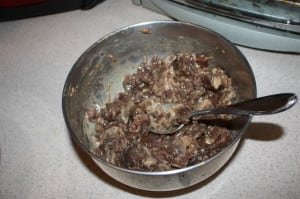 Mix together Marinated beef and cornstarch. Set aside.
Step 3
Cut the vegetables into 2" strips. In large pan or wok, heat 1 Tablespoon of oil and stir fry vegetables until slightly wilted. Vegetables will not be completely done, that's ok. Remove from pan.
Step 4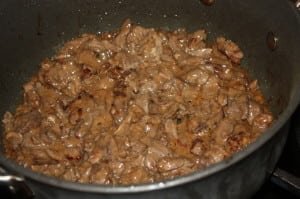 In same pan (no need to clean), heat 1 Tablespoon of oil and add beef. Cook on high until beef is browned.
Step 5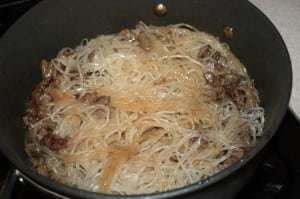 Add the noodles (drained) and lo mein sauce. Cook on high, stirring constantly for about 3 minutes. Everything should be well combined and steamy hot. The noodles should have a consistent caramel color.
Step 6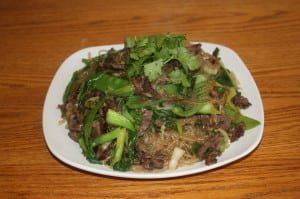 Toss in the vegetables and cook for 1 more minute. Serve hot as a main or side dish. Also great for lunch.
Step 7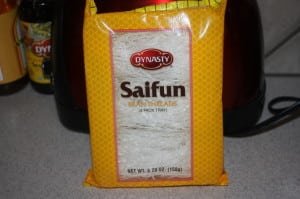 Picture of Saifun Noodles. I find this in the Asian aisle at Safeway.