Try this Beef with Tofu Recipe and home for a healthy and delicious home cooked weeknight dinner.

This is my son's all time favorite dish. The beef is tender, the sauce is rich, and the tofu is soft and wonderful.
Enjoy!
Beef with Tofu
Print recipe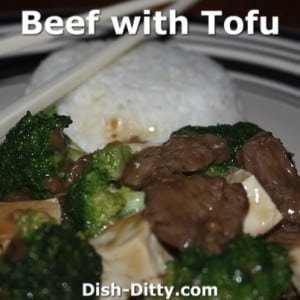 Ingredients
1/2 cup Water
1lb Firm Tofu (drained, patted dry, diced)
1/2 cup Light Soy Sauce
1/4 cup Sherry (or other wine)
1/4 cup Sesame Oil
1/4 cup Oyster Sauce
1 tablespoon Minced Garlic
1 tablespoon Minced Ginger
1 tablespoon Cilantro Paste
1 teaspoon Seasoned Rice Vinegar
1 1/2lb Beef (thinly sliced)
2 tablespoons Cornstarch
2 tablespoons Oil
Vegetables of choice (ex: broccoli, carrots, snow peas, bok choy)
Note
This can be made with other vegetables, I chose to use broccoli, as that's my son's favorite vegetable. Carrots, snow peas and bok choy also work well. Be sure to blanch your vegetables before using, as you will just be warming them up, not cooking them.
Directions
Step 1
Mix together the soy sauce, sherry, sesame oil, oyster sauce, garlic, ginger, cilantro, and vinegar. Add in beef and mix well. Refrigerate for at least one hour or up to overnight.
Step 2
Place beef in strainer over a bowl to remove excess liquid from beef. Reserve liquid for next step and add cornstarch to beef and set aside.
Step 3
In large wok or pan, heat oil. Add beef to wok and cook on high heat for about 2 minutes, or until brown but not fully cooked. Add water and reserved liquid to beef and cook for about 2 more minutes. Add tofu and vegetables, cook for about 2 more minutes, or until vegetables and tofu are hot, and remove from heat.
---