Chinese Bok Choy with Fish Recipe will help you make a light and healthy meal. Delicious and colorful, this is a great weeknight dinner.


Bok Choy with Fish
Print recipe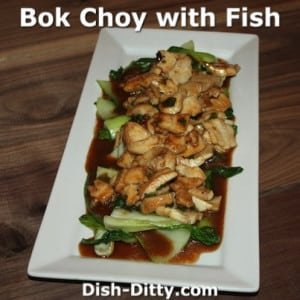 Ingredients
5 tablespoons Garlic Olive Oil (divided 2tbl + 3tbl)
5 bunches Baby Bok Choy (cleaned and trimmed)
8 Fish Fillets (flounder (as pictured), cod or other white fish)
1/2 cup Green Onions (chopped)
2 tablespoons Black Pepper Sauce
2 tablespoons Panda Brand Lo Mein Sauce
3 tablespoons Light Soy Sauce
2 tablespoons Water
1 tablespoon Cornstarch
1 teaspoon Rice Wine Vinegar
Directions
Step 1
In a small bowl, mix together the black pepper sauce, lo mein sauce, light soy sauce, water, cornstarch and rice wine vinegar. Set aside.
Step 2
In a large pan, heat 2 tablespoons of garlic olive oil. Add the baby bok choy and cook 2 minutes on high, stirring constantly. Remove from the pan and set aside. Wipe pan clean with a paper towel.
Step 3
In the same pan, heat the remaining 3 tablespoons of olive oil on medium-high heat. Add the green onions and fish filets. Cook for a couple minutes or until the fish is almost done, gently tossing the fish being careful to not break it up.
Step 4
Add the sauce and cook for one minute, or until the sauce is bubbly. Remove from heat and serve with rice.
---
Fish is one of my favorite healthy eating choices. Paired with bok choy, it is a wonderful choice for a quick yet healthy dinner.
Enjoy!