Want chocolate and coconut while still getting your fiber? These Coconut Flax Bars satisfy both those needs.


Coconut Flax Bars
Print recipe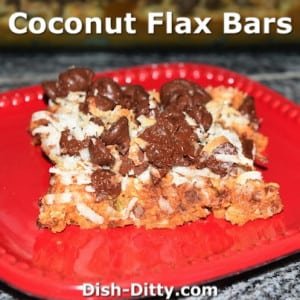 Ingredients
4oz Butter
1 can Sweetened Condensed Milk
1 1/2 cup Graham Crackers
1 cup Ground Flax
2 cups Pumpkin Flax Granola
1 1/2 cup Shredded Coconut
3 cups Semi Sweet Chocolate Chips
Pam Cooking Spray
Directions
Step 1
In a bowl, add the butter and sweetened condensed milk. Place in microwave on 70% power for 30 seconds. Stir. Repeat until the butter is melted.
Step 2
In a large bowl, combine the graham crackers, flax, and granola. Pour the butter mixture over the granola mixture and combine well.
Step 3
Spray a 10x10 or 9x13 pan with Pam. Press the granola mixture into the pan. In a separate bowl, mix the coconut and chocolate chips together and then sprinkle with coconut and top of the graham cracker mixture.
Step 4
Bake at 350 degrees for 15 minutes. Reduce heat to 225 degrees and cook for another 15 minutes.
---
I created these one day when trying to get my son to have more fiber. They taste great and are a nice treat. He loved them. I loved them. It was a winner!
Enjoy!
---