Nothing is easier on a weeknight than Chinese Stir fry, and with this Chinese Pork with Green Beans Recipe, you'll also have a delicious and healthy weeknight dinner.
Chinese Pork with Green Beans
Print recipe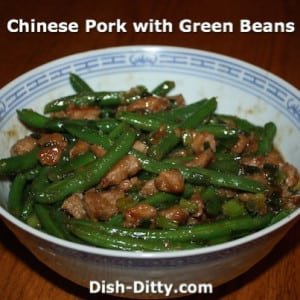 | | |
| --- | --- |
| Serves | 6-8 |
| Prep time | 10 minutes |
| Cook time | 15 minutes |
| Total time | 25 minutes |
| By author | Dish Ditty |
Ingredients
4 tablespoons Garlic Olive Oil (divided)
4 cups Green Beans (cleaned, trimmed and dried with a paper towel)
3/4 cups Green Onions (chopped)
1/2 cup Water
2 cups Marinated Pork (See notes for recipe)
1 tablespoon Cornstarch
1/4 cup Lo Mein Sauce (Can substitute standard Oyster Sauce)
1 tablespoon Tonkatsu Sauce
Directions
Step 1
In large wok or skillet, cook green beans on high heat with 2 tablespoons of garlic olive oil for 2 minutes, stirring constantly to keep from burning.
Step 2
Add Green onions and cook for one minute, stirring constantly.
Step 3
Add water to pan, stir, cover and cook for 2 minutes, swishing the pan to keep the green beans from burning. You can also just open it up every 30 seconds and stir. But the point here is to get the green beans cook so that they aren't too crunchy. But you don't want them burned either. When the green beans are cooked to your liking, remove from the pan and set aside.
Step 4
In a separate bowl, mix together the pork with the cornstarch.
Step 5
In the same pan you cooked the green beans, heat the remaining 2 tablespoons of garlic olive oil on high heat. Add the pork and cook on high heat, stirring constantly, until the pork is browned. This shouldn't take more than 3 minutes.
Step 6
Add back the green beans and add the lo mein sauce and tonkatsu sauce. Cook for 1-2 minutes, stirring constantly to combine. Remove from heat and serve hot over rice.
---
Marinated Pork for Chinese Stir-Fry
Print recipe
| | |
| --- | --- |
| Serves | n/a |
| Prep time | 5 minutes |
| By author | Dish Ditty |
Ingredients
2lb Pork (diced or thick ground)
1/2 cup Light Soy Sauce
1/8 cup Seasoned Rice Wine Vinegar
1/8 cup Sesame Oil
1/4 teaspoon White Pepper
2 teaspoons Garlic Powder
2 teaspoons Dry Cilantro (or 1 Tbl Cilantro Paste)
---
You will see that I do a lot of stir fry recipes for dinner.  Most of the time, I really just throw together whatever I have in the refrigerator and stir fry is the fastest and simplest way to make dinner on a busy weeknight.  The key  is having defrosted and marinated meats ready to go.  This recipe uses my standard Marinated Pork Recipe as it's base and the rest is just a few simple ingredients thrown together to create a healthy, hearty and super yummy dinner.
From start to finish, less than 30 minutes.  Just start your rice before you do anything else since that takes the longest to cook. Enjoy!
---