Butter Fried Chicken is the easiest way to do fried chicken, and the tastiest. So quick and easy, you can come home, get it started, then work on the rest of your meal and have a full meal on the table in less than 30 minutes.
Butter Fried Chicken
Print recipe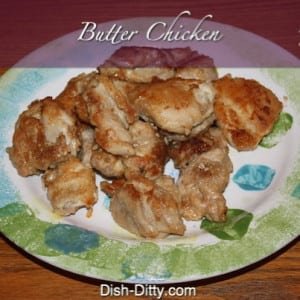 | | |
| --- | --- |
| Serves | 6 |
| Prep time | 5 minutes |
| Cook time | 20 minutes |
| Total time | 25 minutes |
| By author | Dish Ditty |
Ingredients
1 cup Flour
1/2 teaspoon Garlic Powder
1/2 teaspoon Hungarian Paprika
1 teaspoon Garlic Salt
1/2 cup Butter
1/4 cup Vegetable Oil
1.5lb Chicken Thighs (boneless, skinless)
Directions
Step 1
Mix together flour, garlic powder, paprika and garlic salt. Dredge chicken in flour and set aside.
Step 2
In large skillet, heat oil and butter until butter is melted. Add the chicken pieces in a single layer. Brown and then flip over. Cover and reduce heat. Cook for about 15-20 minutes on low or until chicken reaches 165 degrees.
---
Fried Chicken
Print recipe
Ingredients
Whole cut up chicken (with bones and skin)
Salt & Pepper
Flour
1lb Butter
Note
This is an un-tried recipe. My dad told me about this recipe that his mom used to make for him when he was little. I need to make it for him one day soon, and when I do, I'll update this recipe.
Directions
Step 1
Season chicken with salt & pepper. Dredge in flour and set aside.
Step 2
In large cast iron skillet (must be cast iron) heat butter until bubbly. Add chicken pieces and reduce heat. Slow cook chicken in butter for about 30-45 minutes, or until chicken reaches 165 degrees.
---
I was inspired by the movie "Julie & Julia" and started making everything with butter. This was the result of a week long foray into butter. Of course, I also was inspired by my grandmother's recipe for fried chicken. I have yet to make her version, however, I did include it below for you to try.
I think the whole pieces of chicken with skin on will make a much better butter fried chicken, but I didn't have those on hand and I didn't have a cast iron skillet available. So, you do with what you've got.
So here is the cholesterol rich, heart-attack inducing, butter fried chicken recipe. Enjoy!