I'm always trying new Smoked Chicken Recipes. Not because I don't have any good recipes, but because there are so many different ideas that I have and I want to try them all! This Quick Rubbed Smoked Chicken Recipe is one of those ideas. It's a simple and quick recipe to prepare. You can use the dry rub that I've created, or any dry rub of your choice. The honey and garlic olive oil really add the extra punch to this chicken and you'll love the way it turns out.
Enjoy!
Quick Rubbed Smoked Chicken
Print recipe
Ingredients
Dry Rub for Chicken (See notes for recipe)
Garlic Olive Oil
Honey
Note
Directions
Step 1
Liberally rub whole pieces of chicken with garlic olive oil, honey and dry rub. Be sure to rub under the skin without removing the skin. Let it rest while you warm up your grill or smoker.
Step 2
For smoking, smoke at 325 degrees for 30 minutes to 1 hour. Timing depends on size of chicken pieces and whether they are bone in/out. You want the internal temperature to reach 165 degrees. For the leg quarters shown above, I needed about 40 minutes.
Step 3
Alternatively, you can choose to brush with BBQ sauce about 10 minutes before the chicken is done to add an additional glaze. We found, though, that the BBQ sauce was not needed and that the flavors were well balanced.
Dry Rub Recipe
Chicken Rub
Print recipe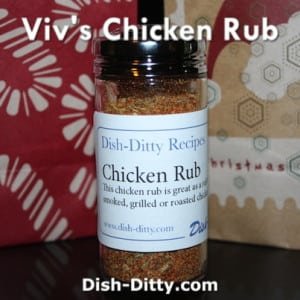 This is a versatile rub that I use on Chicken and Pork. It works great in marinades as well as in a dry rub for grilled, smoked and roasted chicken or pork.
Ingredients
1/2 cup Old Bay Seasoning
1/2 cup Granulated Garlic
1/2 cup Kirkland's Organic No Salt Seasoning
1/4 cup Hungarian Paprika
1/4 cup Garlic Salt
1/4 cup Herbes de Provance
2 tablespoons McCormick's Chipotle Chili Powder
1 tablespoon Ground Black Pepper
Directions
Step 1
Mix together well and rub onto chicken before smoking, roasting or grilling.